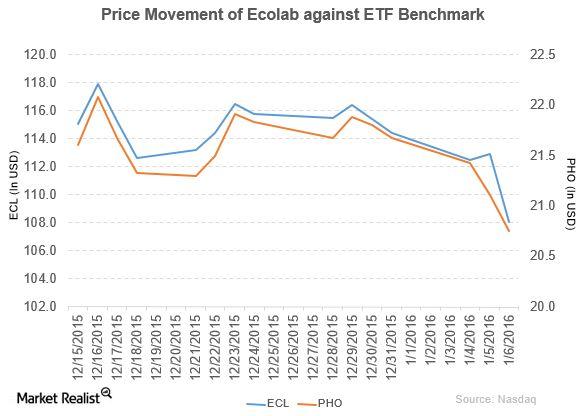 Ecolab Fell on the Deconsolidation of Its Venezuela Operations
By Gabriel Kane

Jan. 12 2016, Published 4:45 p.m. ET
Price movement of Ecolab
Ecolab (ECL) fell by 4.3% to close at $108.07 per share as of January 6, 2016. This was due to the deconsolidation of its Venezuela operations. The stock's price movements on a weekly, monthly, and year-to-date (or YTD) basis are -7.2%, -9.1%, and -5.5%, respectively.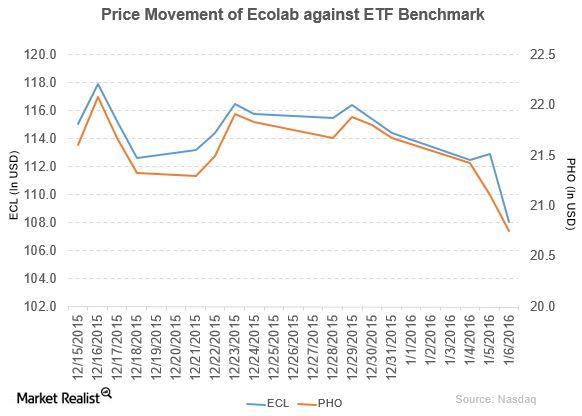 Technically, the stock has broken its support and is trading below all of its moving averages. Currently, ECL is trading 6.0% below its 20-day moving average, 7.5% below its 50-day moving average, and 5.4% below its 200-day moving average.
The PowerShares Water Resources ETF (PHO) invests 7.5% of its holdings in Ecolab. The ETF tracks a modified, liquidity weighted index of US-listed companies that create products to conserve and purify water. The YTD price movement of PHO is -2.6% as of January 5, 2016.
Ecolab's competitors and their market capitalizations are as follows:
Article continues below advertisement
Deconsolidation of Ecolab Venezuela operations
Ecolab has deconsolidated its Venezuela operations. It will not consolidate its operations in fiscal 1Q16, and this will not affect local operations in Venezuela. Total sales of its Venezuela business were ~$200 million in 2015.
This deconsolidation will result in a $120 million pretax special charge in fiscal 4Q15. ECL has also announced special charges of $155 million related to Venezuela's bolivar devaluation. The bolivar devaluation and ECL's deconsolidation had a combined effect on its operating results, for a year-over-year 2016 headwind of ~$0.17 per share.
These double charges caused the stock price to fall 4.3% on January 6, 2016.
Performance of Ecolab in recent fiscal 3Q15
Ecolab reported fiscal 3Q15 net sales of $3,446.4 million, a fall of 6.7% when compared to net sales of $3,694.9 million in fiscal 3Q14. Its net income and EPS (earnings per share) fell to $257.8 million and $0.86, respectively, in fiscal 3Q15, compared to net income and EPS of $364.9 million and $1.19, respectively, in fiscal 3Q14.
Meanwhile, its cash and cash equivalents and inventories fell by 6.6% and 1.7%, respectively, in fiscal 3Q15, compared to the prior year's period. Its debt-to-equity ratio rose to 1.8 in fiscal 3Q15 compared to 1.5 in fiscal 3Q14.
Projections
The company has made the following projections for fiscal 4Q15 and fiscal 2015:
Fiscal 4Q15
Adjusted gross margin, excluding special gains and charges, in the range of 47%–48%
Adjusted EPS, excluding special gains and charges, in the range of $1.20–$1.30
Fiscal 2015
Adjusted gross margin, excluding special gains and charges, of ~47%
Adjusted EPS, excluding special gains and charges, in the range of $4.35–$4.45