Keeping with my tradition of comparing the year that was to the year that I expected, here's a summation of what went according to plan, what was sort of in the ball park and what was a total miss.
Article continues below advertisement
What Went According To Plan
My basic view that 2015 would be a year of modest U.S. growth, low U.S. inflation and contained U.S. rates turned out to be true. Despite a stellar second quarter, the U.S. economy never broke out as many expected.
I expected that dollar-hedged returns for European and Japanese equities would be better than stock market returns in the United States. In actuality European equities, as measured by the S&P Europe 350 Index, modestly outperformed the broader market, while stocks in Japan, represented by the MSCI Japan Index, had another strong year.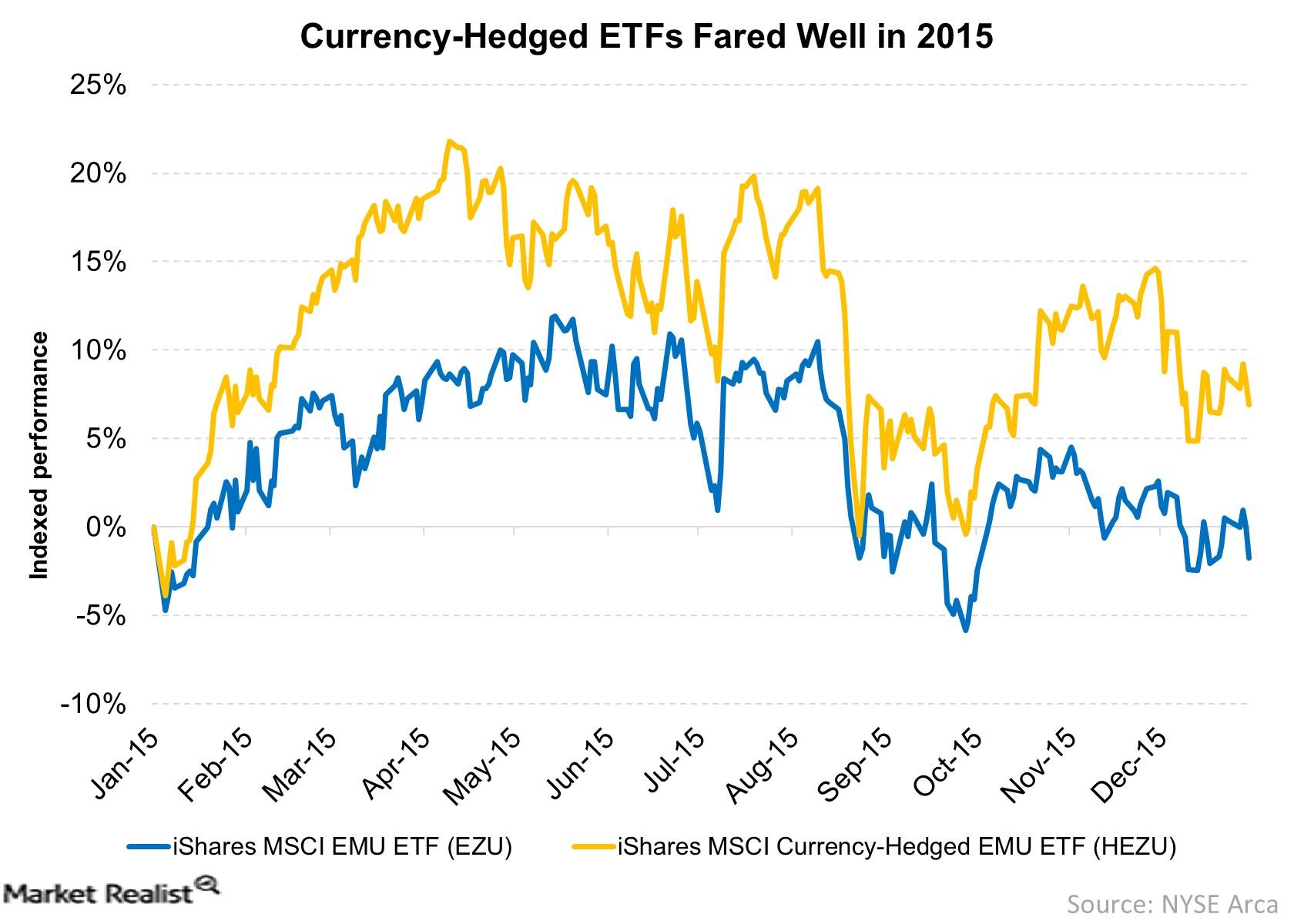 Market Realist – Currency-hedged ETFs fared well in 2015.
The graph above compares the performances of the iShares MSCI EMU ETF (EZU), which tracks stocks based in the European Union, with the iShares Currency-Hedged MSCI EMU ETF (HEZU), which is the currency-hedged sibling of EZU. Investing in the former gives you a foreign currency exposure, while the latter—as the name suggests—hedges it. A strengthening dollar has a big negative impact on unhedged ETFs tracking international stocks (ACWI).
This effect is magnified in the case of ETFs tracking export-oriented economies like Germany (EWG) and Japan (EWJ), where, a currency depreciation against the US dollar (UUP), fuels their exports, and in turn, their stock markets. American citizens investing in these markets would see their foreign currency exposure negate the market returns.
So, as the dollar appreciated across the board in 2015, investing in currency-hedged ETF was a good call. HEZU gave returns of 6.9% compared to the -1.7% of EZU. With the Fed likely to hike rates, albeit mildly, and with other developed economies (EFA) still in monetary easing mode, the dollar is likely to strengthen in 2016 as well. So investors might consider currency-hedged ETFs to access international stocks.