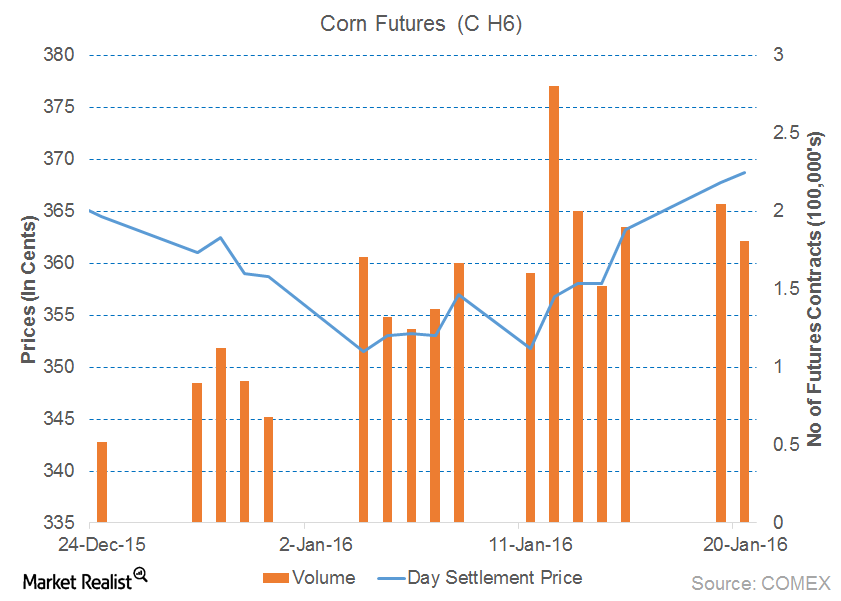 Corn's Future: Strong Domestic Demand Supports Futures Prices on January 20
By Sean Brown

Jan. 21 2016, Updated 12:29 p.m. ET
Corn futures prices rise on January 20
On January 20, 2016, corn futures on the CBOT (Chicago Board of Trade) for March delivery increased by 0.27%, settling at $3.68 per bushel. Corn prices rose in the wake high domestic corn demand, and the Teucrium Corn Fund (CORN) followed suit, increasing by 0.23% on January 20, 2016.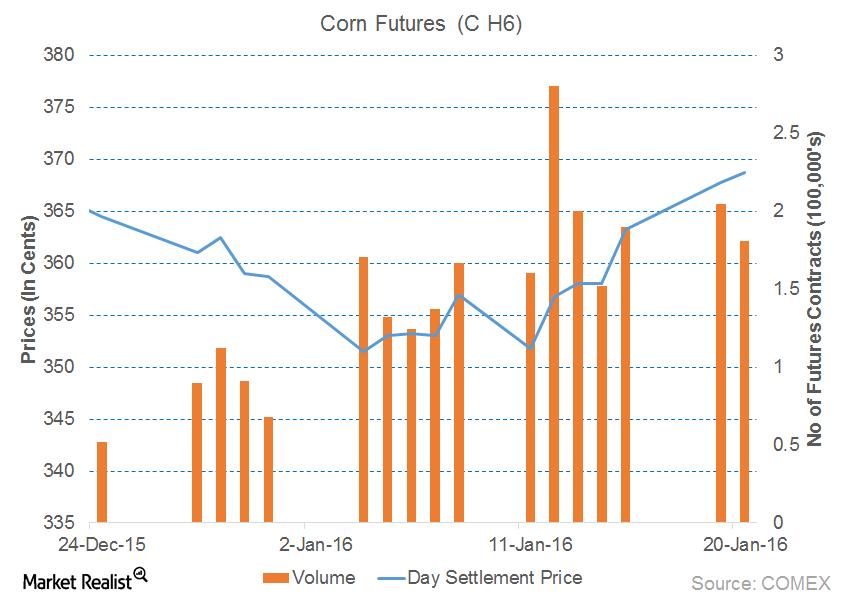 Article continues below advertisement
Why weather matters: feed and fuel
Major regions of North America are facing unfavorable cold and dry weather conditions. In these conditions, corn demand for feed and ethanol for fuel tends to increase, and so the current domestic US demand for corn—both for feed and fuel—supported the boost in corn prices on January 20, 2016.
Meanwhile, farmers in the Midwest who have large inventories of corn have not been willing to sell their corn at prices lower than the cost of production. The prospects of the corn prices in near term are not very bright—they may not rise above the USDA's (US Department of Agriculture) standardized cost of production $4 per bushel—which suggests that farmers might remain reluctant to sell. That said, the speculation of limited supply in the near term provided strong enough support for corn prices on January 20.
Mexicans in the corn game
The USDA reported on January 20, 2016, that Mexico has bought 243,100 tons of US corn, and so the cues of competitive pricing of US corn strengthened export sentiment, further supporting corn futures prices that day.
Traditionally, during January and February, corn prices tend to hit temporary lows due to favorable supply and production sentiment from South America. In this sense, crop progress and crop harvests in Brazil and Argentina drive domestic US corn prices. So from the perspective of mid-January, corn prices could remain in the low range, especially amid these slower export sentiments.
What this means for corn stocks
This rise in corn prices supported shares in corn and corn production because the rise supports the inventory value. Corn companies Archer Daniel Midlands (ADM) and Tyson Foods (TSN), for example, increased in value by 2.6% and 0.56% on January 20, 2016, whereas Bunge (BG) and CHS (CHSCP) declined by approximately 2% and about 0.6%, respectively, on the same day. The PowerShares DB Agriculture Fund (DBA) dropped by 1.4%.
Continue to the next part of this series for further analysis of where corn prices look to be headed.