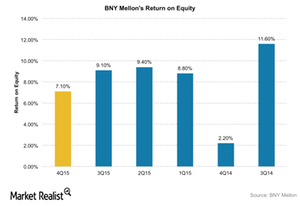 BNY Mellon Improves Its Profitability despite Global Turmoil
By Rebecca Keats

Jan. 22 2016, Updated 9:23 a.m. ET
BNY Mellon's profitability affected by low interest rates and global weakness
In this part of the series, we'll take a look at the profitability ratios of Bank of New York Mellon (BK) and compare them to Wall Street estimates.
A key element gripping the US banking sector (XLF) (VFH) is the near-zero interest rate, which is acting as a drag on banks' earnings. In a meeting held in December, Janet Yellen, chair of the Federal Reserve, announced an interest rate hike of 0.25%. Despite this hike, the key interest rate remains at a historically low level. US banks earn lower returns on their assets as well as lower interest-based income when interest rates are low. Global weakness has also impacted trading desks and slowed down M&A (mergers and acquisitions) activity, which could impact future earnings of custodian banks like Bank of New York Mellon.
In order to boost profitability in a low interest rate environment, banks are reducing expenses by restructuring their businesses and focusing on their core.
Article continues below advertisement
Return ratios for BNY Mellon
Bank's valuations are derived from the returns they are able to generate on assets and shareholders' equity. These are key measures to profitability for banks. During the fourth quarter, BNY Mellon posted a return on equity, or ROE, of 7.1%, which was significantly higher than the ROE of 2.2% during the same period last year. In the previous quarter, BNY Mellon's ROE was 9.1%.
The company also returned $431 million to shareholders in the form of share repurchases. It declared a dividend of $0.17 per share in the fourth quarter. This translates to a dividend yield of 0.5% based on yesterday's closing price of $34.31.
BNY Mellon's peer Northern Trust Corporation (NTRS) declared its earnings earlier this week, and State Street Corporation (STT) is scheduled to release its quarterly earnings next week.