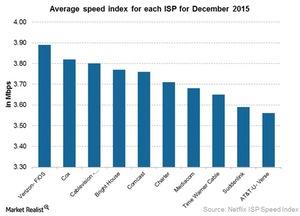 Does Binge On Violate Net Neutrality?
By Shirley Pelts

Jan. 13 2016, Updated 12:06 p.m. ET
FCC is investigating Binge On
The FCC (Federal Communications Commission) is investigating T-Mobile's Binge On service. At the end of 2015, the FCC sent letters to companies such as T-Mobile, AT&T (T), and Comcast (CMCSA) regarding their free data plans. The FCC is investigating whether these companies' free data plans are violating net neutrality rules. T-Mobile (TMUS) stated at the Citi Global Internet, Media & Telecommunications Conference on January 6, 2016, that it believes Binge On doesn't violate net neutrality.
Article continues below advertisement
The FCC is watching T-Mobile's Binge On service because net neutrality activists have said that T-Mobile's service may be favoring the services of video providers. Tom Wheeler of the FCC stated last November that the FCC would review T-Mobile's new service under a general conduct standard to determine whether or not Binge On is complying with the FCC's net neutrality rules.
At the Citi Conference, T-Mobile said Binge On complies with net neutrality because it's a free video streaming service that can be turned on and off at the user's discretion and offers the choice to watch videos in high definition or low resolution across different websites. It believes that Binge On is an innovative product in that sense.
What is net neutrality?
The above graph indicates the average speed index for various ISPs (Internet service providers) for Netflix (NFLX). As of December 2015, it's not certain whether pure-play OTT (over-the-top) players, including Netflix, pay interconnection fees to ISPs such as Verizon Communications (VZ) to move data traffic, including Netflix's streaming videos, through their networks in a fast, efficient manner.
On February 26, 2015, the FCC finally passed a rule on net neutrality. The ruling made broadband a telecom service in Title II of the Communications Act, which means broadband will now be regulated like any other telecom service.
Specifically, the FCC's ruling prohibits broadband providers from blocking, slowing down, or even speeding up Internet traffic for any legal applications, devices, content, or services. Broadband providers include cable companies and telecom companies.
T-Mobile makes up 0.4% of the iShares S&P US Preferred Stock Index Fund (PFF). For investors interested in getting exposure to the Communications Services sector, PFF holds 0.75% of the sector.