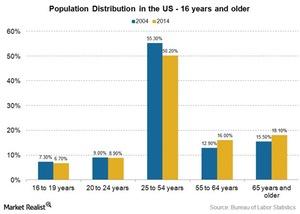 Bill Gross Highlights the Cost of the Demographic Shift in the US
By Surbhi Jain

Jan. 18 2016, Updated 11:58 a.m. ET
Half of the US population doesn't go to work in the morning
Most people in the US haven't realized that half of the population doesn't go to work in the morning. We're seeing a major demographic shift. It's resulting in a larger share of the US population not being in the labor force.
According to a BLS (Bureau of Labor Statistics) release, "In recent years, the baby-boom generation has moved into the 55-years-and-older age group, which historically has had a large proportion of individuals who were not in the labor force….. The aging of the population has put upward pressure on the percentage of the overall population that is not in the labor force." As a result, the proportion of people 55 years and older increased rapidly. By 2014, they accounted for 34% of the total population.
Article continues below advertisement
Real wages haven't budged
Real wages are effectively stagnant. Real average hourly earnings rose by just 1.8%, seasonally adjusted, from November 2014 to November 2015, according to a BLS December 15, 2015, release.
Half of the population is working for close to stagnant wages. This doesn't seem like a motivating scenario for the population who will soon be joining the workforce when they reach the working age.
In his January 2016 investment outlook, legendary investor and hedge fund manager Bill Gross, of Janus Capital, shed light on these facts. "Half of the U.S. population doesn't go to work in the morning and that their real wages after conservatively calculated inflation have barely budged since the mid 1980's," said Gross.
They haven't realized this yet because they've been kept occupied with things like "fantasy sports, cellphone game apps, sexting, and fast food," Gross exclaimed. Meanwhile, individuals who follow the markets have been kept content by artificially elevated prices of US stock (IWM) (QQQ) and risky debt offering high interest rates.
While the S&P 500 (SPY) may have soared over the past few years and the low interest rates served as a tailwind to the high-yield (HYG) (JNK) market, Gross believes that 99% those that follow the markets live in a "Xanax existence."