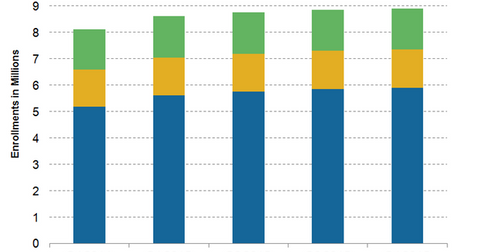 Anthem's Government Business Enrollments Rose by 0.78 Million in 2015
By Margaret Patrick

Updated
Anthem's Government division in 4Q15
Anthem's (ANTM) Government business earned revenues of $40.8 billion in 2015, which represents a YoY (year-over-year) increase of 20.8%. The division's revenues were $10.6 billion for 4Q15, which represents a YoY increase of about 17.4%.
Notably, Anthem's government business includes Medicare, Medicaid, and Federal Employee Program enrollments. (To learn more about Anthem's government business, please refer to Market Realist's "Anthem: Managing Government-Sponsored Health Insurance.")
Article continues below advertisement
Anthem's Medicaid enrollments in 4Q15
In 4Q15, Anthem's Medicaid enrollments rose by about 13.9%, from 5.2 million in 4Q14 to 5.9 million in 4Q15. Medicaid program is expected to be a long-term revenue growth driver for Anthem as well as for its peers such as UnitedHealth Group (UNH), Cigna (CI) and Aetna (AET).
On August 17, 2015, health insurance carriers UnitedHealth Group (UNH), WellCare Health Plans, Anthem (ANTM), and AmeriHealth Caritas entered into a contract with Iowa to provide managed Medicaid services across the state. Iowa, however, removed Wellcare Health Plans from this contract, a decision that will likely ensure a higher number of Medicaid enrollments for the three remaining carriers.
Expecting losses in Iowa
Anthem expects that it will face losses in the Iowa Medicaid program in the first year of implementation, but it will likely get closer to breaking even in the second year and then generate profits in the third year of program's implementation. The company plans to begin implementation of the managed Medicaid program in Iowa on March 1, 2016.
In 2016, Anthem expects to add about 350,000 Medicaid members due to new enrollments from Iowa as well as to organic enrollment growth in the company's existing markets. The company has also projected its long-term Medicaid margin to be about 5%, including gross-up obtained from states for the health insurance fee.
Anthem's Medicare enrollments in 4Q15
In 4Q15, Anthem's Medicare enrollments rose by about 2.5%, from 14.0 million in 4Q14 to 14.4 million in 4Q15. Anthem plans to improve profit margins from its Medicare business through more effective medical cost management and by focusing on administrative expenses. This turnaround or repositioning of its Medicare business may result in a loss of existing enrollments. Hence, despite steady membership growth in existing markets, Anthem expects enrollments to remain steady at 2016.
Investors can gain exposure to Anthem through the iShares Core S&P 500 ETF (IVV) and thereby reduce the excessive company-specific risks of investing directly in Anthem. Anthem accounts for about 0.21% of IVV's total holdings.
Now let's look at Anthem's savings plans through pharmaceutical pricing.