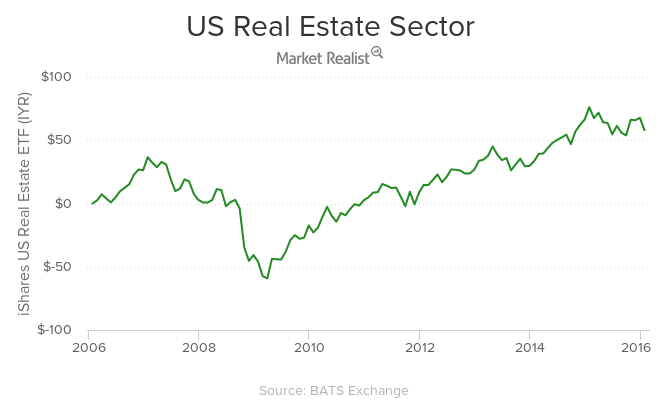 Despite a Tough Time, Homeownership Remains the American Dream
By Surbhi Jain

Jan. 26 2016, Updated 4:33 p.m. ET
The US housing market has had a roller coaster ride
The founder and chairman of CityView and former Housing and Urban Development Secretary Henry Cisneros spoke on Wall Street Week earlier this month about the housing market and its future.
[marketrealist-chart id=998077]
The US housing market collapse of 2008–09 deeply impacted the US and world (ACWI) (VT) economies. The financial sector (XLF) fell along with real estate (IYR) (VNQ). Banks that give out mortgage loans, like Bank of America (BAC), Citigroup (C), and JPMorgan Chase (JPM), saw their prices slump.
The housing market has, since then, recovered—albeit slowly. The financial sector has also grappled with the strengthening dollar and low interest rates.
Article continues below advertisement
Yet home ownership remains "the American dream"
Despite the roller coaster ride that the US housing market has taken over the past decade, Henry Cisneros believes owning a home is still "the American dream." He supports his view by citing polls that suggest that even Millennials—people who reached young adulthood around 2000 and who tend to delay home purchases—have expressed their desire to own a home over the long term.
Real estate is a long-term investment. Cisneros believes that not only is homeownership the American dream, but it's also "good economics" over the long term. "For most Americans, their net worth is the sum total of the equity they have in their home," he says.
The housing market as an instrument
Traditionally, the housing market has helped people move into the middle class. However, the social situation is changing. We're seeing people buy houses later and job mobility delaying homebuying decisions to some extent.
These are also reasons why we're seeing more renters than homebuyers, even with ultra-low interest rates. Let's see how real estate magnates Barbara Corcoran and Henry Cisneros feel about the changing trend towards renting versus buying in the US real estate market.