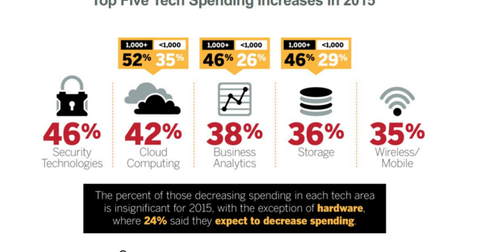 Amazon versus Microsoft: Cut-Throat Competition for the Cloud
By Anne Shields

Updated
Amazon and Microsoft are competing for the cloud
Previously in this series, we discussed how Amazon (AMZN) had started 2016 with its decade-old strategy of price cuts, and Microsoft (MSFT) has followed its lead, by cutting prices for Azure. Amazon is, unquestionably, the leader in the overall cloud space. However, Microsoft is catching up fast in the cloud and holds the second position after Amazon.
According to research company FBR & Co., Microsoft Azure is likely to reach an annual run rate of $8 billion in 2016, compared with AWS's (Amazon Web Services) annual run rate of $7 billion in 2015. Wall Street also believes Amazon's AWS is likely to face stiff competition from Microsoft's cloud computing platform, Azure, in 2016. In the cloud computing space, apart from Amazon's AWS, Microsoft's Azure competes with IBM's (IBM) Bluemix and Google's (GOOG) Cloud Platform. To learn more, please read Will Amazon Web Services Lose Its Position to Microsoft in 2016?

Article continues below advertisement
Spending expected to increase
According to Synergy Research Group estimates, total IT (information technology) spending put towards building, developing, and using cloud services is growing at a rate of 28% annually, and this is likely to continue in the future. The report also stated that ~$110 billion was spent on the cloud in 2015. In the words of Synergy Research chief analyst Jeremy Duke, "In many ways 2015 was the year when cloud became mainstream." IDC Research has a similar prediction in this regard, stating that IT spending on cloud services is growing by 24.1% annually.
Irrespective of varied estimates, it can be safely deduced that cloud revenues are well on their way to becoming the chief focus of IT spending. Therefore, Amazon and Microsoft are aggressively trying to outdo each other in the cloud space.
You could consider investing in the PowerShares QQQ Trust, Series 1 ETF (QQQ) to gain exposure to Microsoft, which makes up 8.4% of QQQ. Investors who would like application software exposure could also consider this ETF, as application software makes up ~28.4% of QQQ.