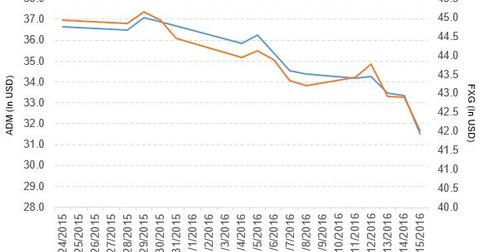 ADM fell on the Fear of Family Farmer Bankruptcies
By Gabriel Kane

Updated
Price movement of Archer Daniels Midland
Archer Daniels Midland Company (ADM) has a market capitalization of $18.8 billion. ADM fell by 5.6% to close at $31.51 per share as of January 15, 2016. The stock's price movements on a weekly, monthly, and YTD (year-to-date) basis are -8.4%, -9.6%, and -14.1%, respectively.
Technically, the stock has broken its support and is trading below all of its moving averages. Currently, ADM is trading 11.1% below its 20-day moving average, 14.0% below its 50-day moving average, and 29.1% below its 200-day moving average.
Article continues below advertisement
The First Trust Consumer Staples AlphaDEX ETF (FXG) invests 3.9% of its holdings in ADM. The ETF tracks an index of large- and mid-cap US consumer staples stocks. The underlying index uses multifactor selection and tiered equal weighting. The YTD price movement of FXG is -1.5% as of January 14, 2016.
The competitors of ADM and their market capitalizations are:
New debt limit to avoid bankruptcies
Due to the fear of family farmer bankruptcies, lawyers in the Midwest want an increase in the debt limit by US Senator Chuck Grassley. Farmers are facing difficulty due to souring export sales and the rising costs of inputs such as fertilizer and seeds. Corn prices have fallen 50% compared to three years ago.
According to the lawyers, "The $4 million cap is out of touch with most farms' current operating size, thousands of acres of land paid for by expensive leases and worked using tractors that can cost more than $250,000."
So, the debt limit could be raised to at least $10 million for Chapter 12 bankruptcies. Without this new limit, farmers would have to face the high costs of Chapter 11 filing.
Performance of ADM in fiscal 3Q15
ADM reported fiscal 3Q15 revenue of $17,000.0 million, a fall of 8.6% when compared to revenue of $18,000.0 million in fiscal 3Q14. It reported asset impairment, exit, and restructuring costs of $65.0 million in fiscal 3Q15. Its net income and EPS (earnings per share) fell to $252.0 million and $0.41, respectively, in fiscal 3Q15, compared to $747.0 million and $1.14, respectively, in fiscal 3Q14.
Meanwhile, its cash and cash equivalents fell by 17.0%, and its short-term marketable securities rose by 35.0% in fiscal 3Q15 on a quarterly basis. Its debt-to-equity ratio rose to 0.55 in fiscal 3Q15 compared to 0.54 in fiscal 2Q15.
The PE (price-to-earnings) and PBV (price-to-book value) ratios of ADM are 10.9x and 1.1x, respectively, as of January 16, 2016.