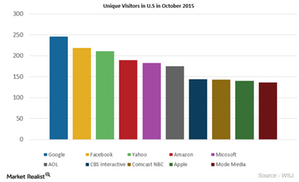 Yahoo's Worth to Alibaba: What if Alibaba Buys Yahoo?
By Parker Thomas

Updated
Global reach
The number of shares that Yahoo (YHOO) holds in Alibaba (BABA) and Yahoo Japan puts Yahoo in a dilemma. It has to decide on whether to sell off its core business or to spin off valuable assets. Moreover, Yahoo's current situation may attract Jack Ma, CEO of Alibaba, who has been targeting the company's media segment in mainland China. A purchase like that may catapult Alibaba to encompass global media, expect for Reddit and CNN, according to Alexa.
Article continues below advertisement
Alibaba has already made a move to grow its online e-commerce platform by spinning off its Ant Financials to integrate with MYbank and its own browser. Yahoo is currently running 59 different websites across the globe, covering hard news, entertainment, and local stock prices. Yahoo is one of the top ten websites for growing online markets like Indonesia, the Philippines, and Mexico.
Alibaba's users may pass Amazon's
Yahoo's US internet traffic is 210.9 million compared to Google (GOOG) and Facebook (FB), with 245.9 billion and 218.2 billion, respectively, in Oct 2015. Apart from Google and Facebook, Yahoo comes after Youtube and the Chinese search engine Baidu (BIDU) in global internet traffic according to Alexa. As a leading internet player, Yahoo may attract Alibaba to reach millions of users more than Amazon.
On buying Yahoo, Alibaba could be able to break cultural and linguistic barriers by customizing its shopping platform with local language translations. That would Alibaba to globally attract potential customers through advertisements, local offers, and promotions. Moreover, it could also help Alibaba to tie-up with non-Chinese corporate clients to expand their e-commerce segments globally.
Yahoo holds a 0.16% stake in the SPDR S&P 500 ETF (SPY), a portfolio of 507 stocks.