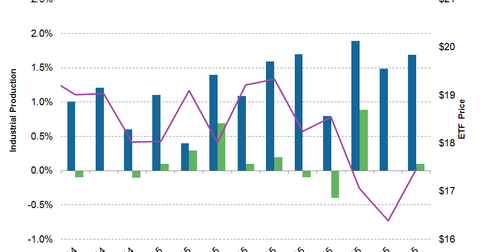 Can UK Economy Grow 2.6% in 2016 with Negative Trade Balance?
By Lara Sheldon

Updated
UK GDP grew 2.3% in the September quarter
Britain (EWU) is one of the better-performing nations in the Eurozone (EZU) (VEA). For the September quarter, Britain GDP (gross domestic product) grew 0.5% as compared to an increase of 0.7% in the previous quarter. On an annual basis, the GDP grew 2.3%, slightly lower than the 2.4% recorded in the earlier quarter. The decline in GDP is mainly attributed to an increase in import trade. In the September quarter, imports grew faster than exports, contributing negatively towards trade balance.
Article continues below advertisement
Industrial production jumps 1.7% from a year ago
Industrial production in the UK increased 1.7% year-over-year (or YoY) in October 2015, as compared to a 1.5% increase in the previous month. Industrial production grew in October with the largest contribution coming from mining and quarrying by 8.5%, whereas manufacturing fell 0.1% in October.
With a slight increase in industrial production, the jobless rate in the UK decreased 5.2% in the three months to October of 2015, lower than 5.3% in the previous period. With better figures, Barclays (BCS), British American Tobacco (BTI), and BHP Billiton (BHP) rose 0.78%, 0.17%, and 1.5%, respectively, as on December 21.
Britain inflation rebounds 0.1% YoY in November
Consumer prices in the UK went up 0.1% year-over-year in November of 2015, rebounding from a 0.1% fall in the previous two months, boosted by the higher cost of housing, utilities, restaurants, and hotels while transport and food prices fell at a slower pace. On a monthly basis, consumer prices were flat, mainly due to falling clothing prices.
The UK economy is struggling with lower inflation. Oil's fall below $35 during the week has worsened the situation further. To boost consumer spending and to infuse economic growth, the BOE (Bank of England) has decided to maintain the status quo on the bank rate. Moreover, the BOE has mentioned that the gradual rate hike will depend on the economic circumstances. It remains to be seen whether maintaining lower bank rates help the UK economy to reach economic growth of 2.6% in 2016.
In the next article, let's look at how the Japanese economy may perform.