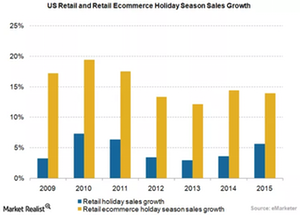 Walmart Embracing Technology to Launch Walmart Pay Service
By Parker Thomas

Updated
Walmart Pay will roll out to US stores
Over the past year, shoppers have become highly dependent upon mobile devices to make online payments. Until 2013, shoppers were reluctant to proceed with payment gateways on mobile devices due to perceived device vulnerability.
However, with their improved security and growing reliability, mobile devices are becoming hubs driving shoppers' activities. Retailers find mobile devices to be the most advantageous platform for trading.
Article continues below advertisement
Walmart announced on December 10, 2015, that it would launch its in-house–built mobile payment system app called Walmart Pay. This service will enable shoppers to make online payments by major credit or debit cards through their smartphones. As a part of its mobile strategy to make shopping easier and faster, by 2016, Walmart will roll out this app to more than 4,500 US stores.
Follows Apple and Samsung
Walmart's move replicates Apple's tap-and-pay system, which is being rolled out to different merchants such as Best Buy and KFC. Moreover, Google and Samsung have come up with their own mobile wallets, Android Pay and Samsung Pay, respectively, to preload certain amounts for making online and offline payments.
However, the market remains unoccupied, as Apple and others have faced some challenges in converting shoppers accustomed to making offline payments.
"We are creating a seamless shopping experience that includes payment," Neil Ashe, president and chief executive officer of Walmart's global e-commerce division, told reporters on a conference call on December 9, 2015. "It's fast. It's simple, and it's a secure way for customers to use their smartphone."
The iShares US Technology ETF (IYW) is a portfolio of 150 stocks, out of which the top four stocks Apple (AAPL), Microsoft (MSFT), Facebook (FB) and Alphabet (GOOG) constitute 18.0%, 11.6%, 6.7%, and 6.0%, respectively.