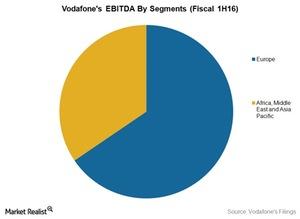 Vodafone's Geographically Diverse Global Operations
By Ray Sheffer

Updated
Vodafone's global operations
In this series, we'll look at the recent performance of Vodafone (VOD) in fiscal 1H16 (period ending September 2015). On November 27, 2015, Moody gave a Baa1 rating to Vodafone's equity-linked zero-coupon bonds of 600 million pounds with maturity in 2020. As a part of the rationale for the rating, Moody's highlighted, "Vodafone's Baa1 rating reflects its large size and scale, and the diversification benefits associated with its strong positions in many different markets."
Vodafone has significantly diversified operations across geographies. As you can see in the pie chart above, a predominant portion of Vodafone's EBITDA[1. Earnings before interest, tax, depreciation, and amortization] was generated from its European operations in fiscal 1H16.
In the European (VGK) region, Vodafone made an EBITDA of ~3.8 billion pounds in fiscal 1H16. Meanwhile, this metric for AMAP (Africa, Middle East, and Asia-Pacific) was ~2 billion pounds during the period.
Germany, Italy, the United Kingdom, and Spain made up ~80.9% of the EBITDA from the European segment in fiscal 1H16.
Meanwhile, for the AMAP and India regions, Vodacom made up ~70.5% of the region's EBITDA during the period.
Article continues below advertisement
Vodafone's scale among global telecom peers
In terms of market capitalization, Vodafone was the fourth-largest global telecom company as of November 27, 2015. It had a market capitalization of ~$89.7 billion. The largest global telecommunication company in this metric was China Mobile (CHL), with a market capitalization of ~$236.8 billion on the same date.
The second-largest player was AT&T (T). And the third largest player in terms of market capitalization among global telecom companies was Verizon (VZ) as of November 27.
In the next parts of the series, we'll look at the performance of Vodafone in fiscal 1H16.