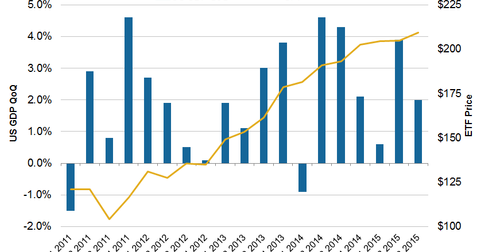 US Gross Domestic Product Was Revised Downward in 3Q15
By Lara Sheldon

Updated
GDP rose at an annual rate of 2.0% in 3Q15
According to the estimate of the Bureau of Economic Analysis (or BEA), the US economy grew at an annual rate of 2.0% in the third quarter of 2015. This is below the estimate of 2.1% in the last month, but in-line with the consensus estimate.
In the second quarter of 2015, GDP (gross domestic product) rose 3.9%. With a downward revision in GDP, the benchmark SPDR S&P 500 ETF (SPY) fell 2.7% over the past month as of December 22, 2015.
Article continues below advertisement
Consumption expenditures saw positive contributions in the third quarter
The downward revision in the third-quarter GDP estimate was mainly due to a fall in private inventory investment. With falling sales, manufacturers were cautious about inventory holdings. Private inventory investment fell to $85.0 billion in the third-quarter estimate compared to $90.0 billion in the earlier estimate.
Moreover, the positive contribution from consumption expenditure drove economic growth in 3Q15. Consumer spending accounts for about two-thirds of US GDP. With a rise in consumption, the Consumer Staples Select Sector SPDR ETF (XLP) has risen 2.1% over the past month as of December 22.
Consumer stocks such as Clorox Company (CLX), Coca-Cola (KO), McDonald's (MCD), and Procter & Gamble (PG) have risen 1.8%, 0.77%, 2.8%, and 4.8%, respectively, over the past month as of December 22.
Positive contributions were also seen from residential and nonresidential fixed investments and government spending, which have helped to offset negative contributions from private inventory investment and increased imports.
Spending on durable and nondurable goods rose by 6.6% and 4.2%, respectively, in the third quarter compared to 6.5% and 4.0%, respectively, in the second-quarter estimate. Also, services grew by 2.1% compared to the 2.2% reported last month.
Trade deficit widened more than earlier estimate
Exports and imports rose by 0.7% and 2.3% in the third-quarter GDP estimate compared to 0.9% and 2.1%, respectively, reported last month. This brings the trade deficit down to 0.26% as compared to 0.22% in the recent estimate.
While consumer spending is gathering pace in the United States, a fall in foreign trade remains a concern. Like consumption, manufacturing forms an integral part of US GDP. In the next article, we'll take a look at the Richmond Fed manufacturing index.