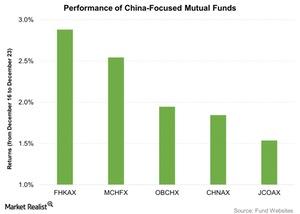 SSE Composite Index's Performance from December 16–December 23
By Lynn Noah

Updated
Shanghai Stock Exchange Composite Index fell
The Shanghai Stock Exchange (SSE) Composite Index rose 3.4% from December 16 to December 23. It closed at 3,636.09 points on December 23, 2015, as investors anticipated that China may introduce reforms to boost the real estate sector.
Article continues below advertisement
Tighter disclosure requirements for Chinese insurance companies
On December 23, 2015, the China Insurance Regulatory Commission introduced tighter disclosure requirements for insurance firms when they buy stakes in listed companies. Insurance companies must disclose when they plan to raise their stake in a listed company to 5%. According to the current regulations, insurers can invest up to 30% of their assets in equities, and the can invest an extra 10% if the companies were A-share blue chips.
This new rule came after cash-rich Chinese insurers increased their stakes in real estate development companies. China Life Insurance is now the majority owner of Sino-Ocean. Similarly, Anbang Insurance Group raised its holdings in China Vanke to 7.0%.
Despite all the property market trouble, insurance companies are attracted to real estate developers due to good dividend payouts and tangible assets in prime cities. Further, insurers have much longer investment horizons, which enable them to better tolerate the ups and downs in the real estate market.
Returns on China-focused mutual funds
The Fidelity Advisor China Region Fund – Class A (FHKAX) posted the highest returns of 2.9%, from December 16 to December 23.
For the same period, the Matthews China Fund – Investor Class (MCHFX), the Oberweis China Opportunities Fund (OBCHX), and the Clough China Fund – Class A (CHNAX) were up by 2.5%, 1.9%, and 1.8%, respectively.
The returns of the John Hancock Greater China Opportunities Fund – Class A (JCOAX) came in at 1.5%.
American depositary receipts (or ADRs) of Chinese companies Alibaba Group Holdings Limited (BABA) and Youku Toduo Inc. (YOKU) were up by 0.2% and 0.3%, respectively. The ADR for 58.Com Inc. (WUBA) was down by 2.2%.
In the next article, we will look at the Conference Board's leading economic indicators.