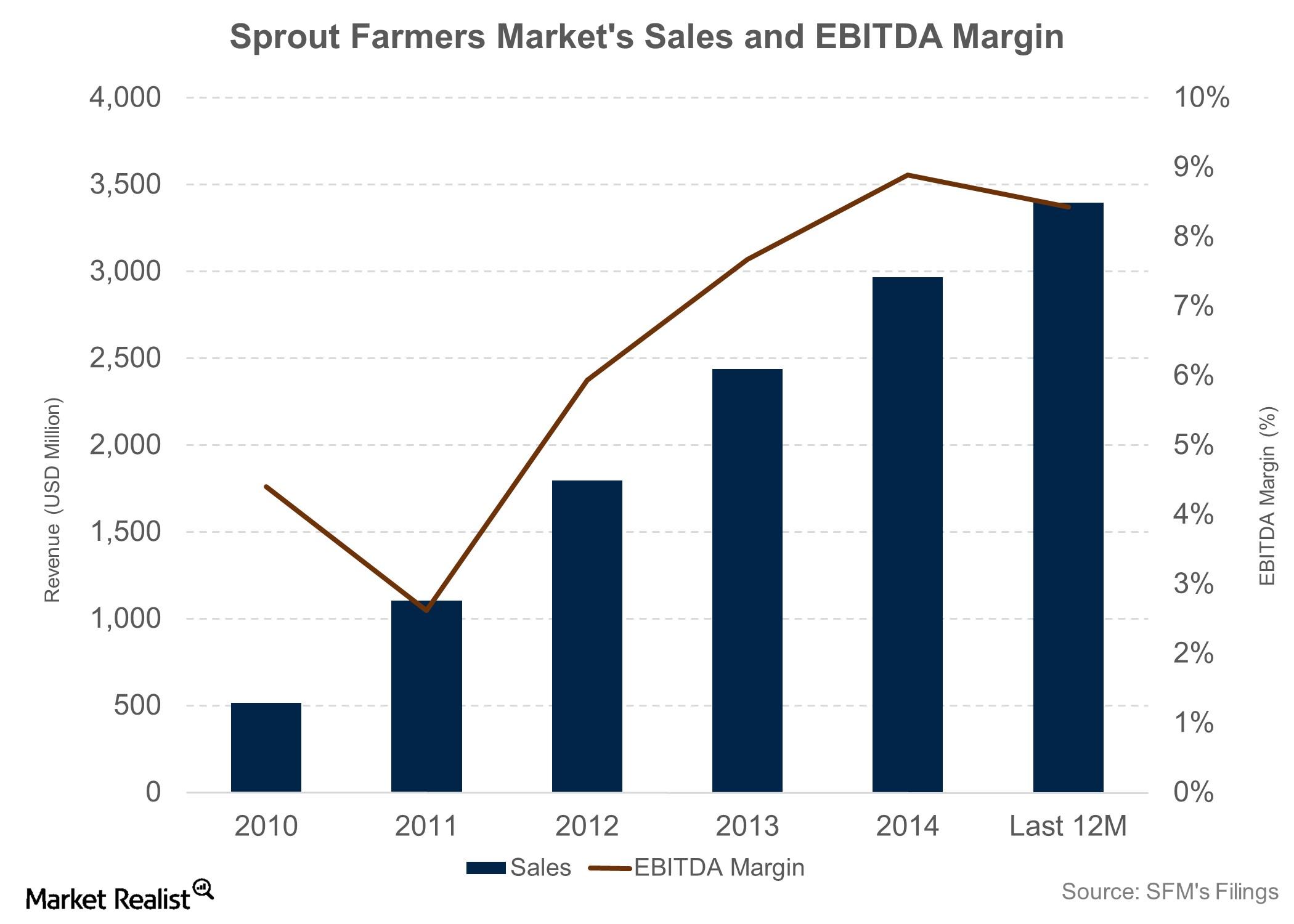 Sprouts Farmers Markets Wins First Place in Financial Performance
Top line performance
Sprouts Farmers Market (SFM) has displayed a consistent financial performance and is one of the best in its class among supermarket players. The company's top line registered a spectacular 54.8% CAGR (compounded annual growth rate) between fiscal 2010 and fiscal 2014. By comparison, supermarket giant Kroger Company (KR) grew by 7%, and Whole Foods Market (WFM) registered a CAGR of 11% in terms of its top line over the past five fiscal years. SuperValu (SVU), on the other hand, registered a 17% decline in its top line during the same period as a result of selling off a part of its retail business.
Sprout's revenue stood at ~$3 billion for fiscal 2014 (ending 28 December 2014) and $3.4 billion over the past 12 months. According to consensus estimates, the company is expected to reach $3.6 billion in revenues for fiscal 2015, which would represent an approximate 20% growth.
Article continues below advertisement
Sprouts' same-store sales
Sprouts has achieved 34 consecutive quarters of positive same-store sales, with its average comps (comparable store sales) over the past 12 quarters being over 9%. Kroger has also been quite consistent in its comparable store sales numbers and recently achieved its 48th consecutive quarter of positive same-store sales. Kroger's average comps for the past 12 quarters stood slightly above 4.5%.
By comparison, Whole Foods Market (WFM), which saw negative store sales of -0.2% during its last reported quarter, also had average same-store sales of 4.5% during the last 12 quarters. Meamwhile, mass merchandiser Costco Wholesale Corporation (COST), which has made a grand entry into the growing organic food market, saw its same-store sales grow by slightly more than 6% during the past 12 quarters.
Sprouts' bottom line
Although Sprouts' bottom line has not followed its top line very closely, the company began generating positive returns after fiscal 2011 and has been growing ever since. Sprouts' net income for fiscal 2014 stood at $108 million, registering a 110% growth over the previous year. The company's margin for the year stood at 3.6%, compared to 2.1% in fiscal 2013.
Article continues below advertisement
Sprouts' margin versus peers
Sprouts has one of the best margins among supermarket players. While Sprouts' operating margin for past twelve months was 6.3%, both Kroger's (KR), and Whole Foods reported operating margins of 3.1%.
ETFs with exposure to Sprouts and peers
Sprouts Farmers Market (SFM), Kroger Company (KR), Whole Foods Market (WFM), and Wal-Mart Stores (WMT) are included in the holdings of the Fidelity MSCI Consumer Staples Index ETF (FSTA). Together, these companies make up approximately 7.4% of the fund's total holdings.
Continue to the next part of this series for a closer look at Sprouts' capital structure.