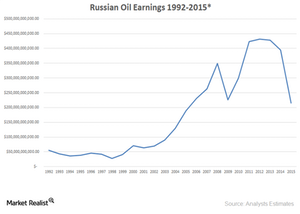 Russia's Debt Reaches $100 Billion with Oil Market Turmoil
By Gordon Kristopher

Nov. 20 2020, Updated 5:31 p.m. ET
Russia's debt 
Oil and gas account for more than 50% of the Russian government's revenue. The Russian finance ministry reported that Russia has a huge debt, of around $90 to $100 billion. This is the collateral damage of the oil prices. Crude oil prices have fallen by 60% since June 2014. A $1 drop in crude prices means a fall of $2 billion in Russia's income. The EIA (U.S. Energy Information and Administration) reported that Russia exported 7.3 MMbpd (million barrels per day) of crude oil and other liquids in 2014. Russia's major oil producers are Rosneft, LUKOIL, and Surgutneftegas.
Article continues below advertisement
Russian strategy 
The Russian ruble has fallen by 52% against the US dollar in the past two years. The tax breaks provided by the Russian government benefit Russian oil producers, so the huge loss by the fall in crude oil prices is offset by the weak Russian ruble and tax breaks. Russia will continue to produce at record levels to offset the lower oil prices and to maintain its market share in the global oil market.
Lately, there have been tax hikes, and debt-ridden Russian companies have cut back their spending on oil exploration and production in 2016 and 2017. We could see Russian production stay at the record levels due to lower drilling costs, improving technology, and the weak ruble, though there is a chance that Russian production may slow down. Energy giants such as ExxonMobil (XOM), Eni, Statoil, and China National Petroleum have partnered with Rosneft to explore oil and gas opportunities in Russia.
The roller coaster ride in oil and gas continues to affect the margins of oil producers such as Petrobras (PBR), Royal Dutch Shell (RDS.A), Eni (ENI), PetroChina Company (PTR), and Gazprom (OGZPY). ETFs such as the First Trust Energy AlphaDEX ETF (FXN) and the iShares US Oil Equipment & Services ETF (IEZ) are also affected by the ups and downs in oil prices.