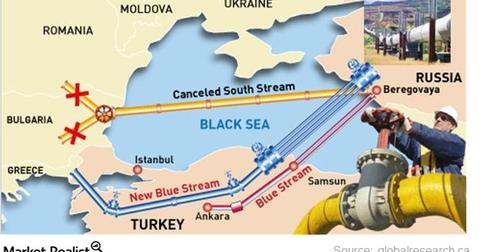 Russia Could Lose Its Monopoly on the European Gas Market
By Rabindra Samanta

Updated
EU might limit its dependence on Russian energy exports
The cancellation of the South Stream pipeline is an example that the EU (European Union) doesn't want to increase its dependence on Russian energy exports. The natural gas pipeline is supposed to connect Russia to Europe through the Black Sea and Bulgaria. However, experts think that Bulgaria didn't cooperate due to pressure from the US (SPY).
After the cancellation of the South Stream pipeline, Russian gas exporter Gazprom PAO (OGZPY) planned for the Turkish stream—shown as the New Blue stream in the above picture. However, it's a dilemma after the recent geopolitical tension between Turkey and Russia.
Article continues below advertisement
Bilateral relations
The differences between the EU (FEZ) and Russia (RSX) are growing at a larger pace. Recently, the EU supported Turkey when authorities shot down a Russian plane. The EU—led by the US—opposed Russia's aggression in Ukraine. This shows that these superpowers are engaged in a cold war with each other. The EU is near the North Pole. As a result, the need for natural gas isn't avoidable during some parts of the year. A country with so many differences can exploit the EU. Experts think that Russia's leadership is a challenge for NATO. EU members are important allies in NATO. NATO is led by the US.
The European market is crucial for Gazprom PAO because it operates with an 85% production mix in natural gas. Lukoil (LUKOY), another Russian company, operates with a production mix of 13% in natural gas. US counterparts like ExxonMobil (XOM) and Chevron (CVX) operate with a production mix of 46% and 33% in natural gas.
In the next part of the series, we'll discuss the Russian gas pipeline that runs through the European continent.