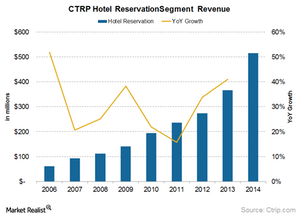 Why Are Reservations Ctrip's Leading Revenue Generator?
By Ally Schmidt

Dec. 4 2020, Updated 10:52 a.m. ET
Segment overview
Ctrip's Accommodation Reservation segment formed in 1999. It very quickly emerged as the company's leading revenue generator. Accommodation reservations accounted for 90% of the company's revenues in 2002, falling to 48% of revenues in 2008. As of 2014, the Accommodation Reservation segment accounted for about 41% of the company's total revenues. But the segment still remains a major revenue source.
Article continues below advertisement
This segment connects customers with about 221,000 hotels in China and 522,000 hotels abroad. The company allows its customers to book hotels from their website and pay hotels directly upon the completion of their stays. The company also offers independent leisure travelers accommodation services in various tour products like bundled packaged-tour products, including group tours, semi-group tours, and private tours.
Smart business model
CTRP lists accommodations both on fixed- and variable-commission bases, depending on the volume and type of accommodation. So it operates under two agency models: the "guaranteed allotment" model and the "on-request" model.
The "guaranteed allotment" model helps the company get guaranteed allotments of rooms daily and forms the majority of its transaction volumes, giving it a significant edge during peak seasons. On the other hand, the "on-request" model helps it secure rooms on an availability basis at the time of booking.
Also, Ctrip has a competitive advantage over its peers in that the vast majority of its hotel booking revenue comes from its individual travelers who stay in star-rated hotels, which offer higher commissions.
CTRP is the leader in the Chinese travel market. US rivals vying for a piece of this pie include Priceline (PCLN), Expedia (EXPE), and TripAdvisor (TRIP). Ctrip International (CTRP) is the fourth-largest holding of the EGShares Emerging Markets Consumer ETF (ECON), accounting for 4.3% of its portfolio.