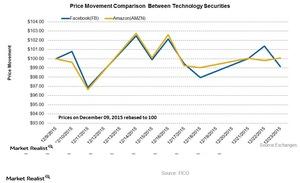 Positioning Your Portfolio in the Rising Rate Environment
By Steve Sage

Updated
Portfolio position in the rising rate environment
The Federal Reserve's decision to increase the interest rate on December 16, 2015, caused a national debate. Investors want to adjust their portfolios to negate the effect of a rate hike on their portfolio. Healthy economic growth led to the Fed's decision to increase the interest rate by 0.25%. In this article, we will discuss how to manage a portfolio in the rising rate environment.
Article continues below advertisement
Equity securities
Sectors with companies that usually have a high level of debt such as utilities and telecommunications are the most affected by rate hikes, as the cost of borrowing increases. In contrast, pro-cyclical sectors like technology that have a small level of debt and a high level of cash reserves tend to grow as the economy expands. Facebook (FB) and Amazon (AMZN) ended December 16, 2015, with positive returns of 2.1% and 2.6%, respectively. The graph above shows the price movement of technology stocks before and after the interest rate hike.
Investing in bonds
The relationship of bonds to interest rates depends on bonds' sensitivity. Duration is used as a measure to capture the sensitivity of a bond to interest rates. The longer the duration, the more a bond's price is affected by interest rate changes. Investors can reduce the exposure of rising interest rates on their portfolio by investing in lower duration bonds.
The housing market
The Fed rate hike brought a smile to investors' face as the construction of single-family houses reached its high. It climbed 10.5% to $1.2 million on an annualized basis from $1.1 million. Homebuilder shares rallied with Beazer Homes USA (BZH), Pulte Group (PHM), and D.R. Horton (DHI) rising by 5.7%, 3.6%, and 2.5%, respectively, on December 16.
In the future, the Fed might increase interest rates gradually. Investors can opt for adjustable rate mortgages, which initially have lower monthly payments. High dividend paying ETFs like the iShares Mortgage Real Estate (REM) and the Market Vector Mortgage REIT Income ETF (MORT) can be beneficial to investors.