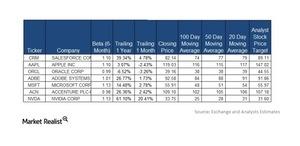 Off We Go: Tech Sector Finds the Wild Blue Yonder on December 4
By Renee Blakely

Updated
Technology sector flies high
The Technology SPDR ETF (XLK) gained by 2.5% on Friday, December 4, 2015. The performances of the constituent stocks of the tech sector were upbeat since the last quarter owing to their respective corporate results.
The graph below presents the technology stocks along with their closing prices and their moving averages.
Article continues below advertisement
In-depth analysis
The graph above presents select closing prices and the moving averages of the technology stocks including Salesforce.Com (CRM), Apple (AAPL), Oracle (ORCL), Adobe Systems (ADBE), Microsoft Corporation (MSFT), Accenture (ACN), and Nvidia (NVDA). These stocks went up by 2.8%, 3.3%, 3.6%, 3.0%, 3.2%, 3.0%, and 4.1%, respectively, on December 4. Below are a few key takeaways:
The beta values of these stocks are mostly around one and, hence, are less volatile stocks.
The average trailing one-year return of these stocks is 23.5%, whereas the average trailing one-month return is 3.77%.
The quarterly return of the Technology SPDR ETF (XLK) as of December 4 was 13.4%, which is very upbeat.
All the above-stated stocks traded at a price on December 4, which was above their respective moving averages, as seen in the graph. Settling prices above moving averages suggest an uptrend in the stock price movement.
Relative strength index
The average RSI (relative strength index) of these stocks is 52. An RSI value of any asset which is less than 70 but greater than 30 suggests that the asset is neither overvalued nor undervalued.
The analyst stock price targets are above the trading price of these stocks, which implies that these stocks have an upward growth potential, except for Adobe Systems (ADBE), Accenture (ACN), and Nvidia (NVDA), whose trading prices have already crossed the target price.
The average growth potential in the trading prices of the remaining stocks—namely, CRM, AAPL, ORCL, and MSFT—is 15%.
Now let's look at the performance of the key stocks of the SPDR S&P 500 ETF (SPY) on December 4.