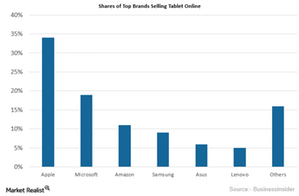 Microsoft's Strategy to Launch Surface Bore Fruit
By Parker Thomas

Updated
Microsoft outpaced Apple
In October 2015, Microsoft's (MSFT) online revenue from the tablet surpassed the online revenue generated by Apple's iPad, according to 1010data. Microsoft captured 45% of online tablet purchases, while Apple got 17%.
Online revenue for Microsoft's tablet has been growing continuously since July 2015. It had a growing monthly average of $145 million in the first half of 2015 compared to a monthly average of $205 million in the second half, according to 1010data.
Article continues below advertisement
Microsoft's strategy
The increase in revenue came from Microsoft charging a higher average price for its Surface device. The average price came in at $844 compared to $392 for the iPad. In 2015, Microsoft has released several devices, including the Surface Pro 3 in June, the iPad mini 4 in September, and the Surface Pro 4 and Surface Book in October.
Another reason for the increase in Microsoft's revenue was the laplet, a two-in-one device. It's categorized as a tablet due to its use as a notepad and a tablet. Over the past 12 months, the laplet accounted for 16% of sales for the tablet category, according to 1010data.
Microsoft's online sales for the tablet account for a small part and don't include retail sales and bulk purchases by business partners. However, Microsoft's strategy for rolling out Surface remained successful and made many consumers chose the Windows device over an iPad.
For 2015, Apple has a market share of 34% for online tablets by revenue compared to Microsoft at 19%.
The PowerShares NASDAQ Internet (PNQI) is a portfolio of 94 stocks. Its top four stocks are Amazon (AMZN), Alphabet (GOOG), Facebook (FB), and Netflix (NFLX), which make up 9.1%, 8.7%, 8.3%, and 7.5% of PNQI, respectively.