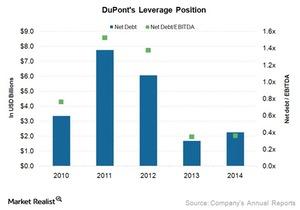 What Led to the Improvement in DuPont's Leverage Ratios?
By Steve Ariel

Updated
DuPont's leverage position
DuPont (DD) has significantly improved its net debt to EBITDA (earnings before interest, tax, depreciation, and amortization) ratio from 0.8x in 2010 to 0.4x in 2014, driven by strong operating performance.
DuPont's EBITDA rose impressively to $6.2 billion in 2014 as compared to $4.3 billion in 2010, led by higher margins in most of its businesses. Its net debt to EBITDA was relatively higher in 2011 and 2012, owing to lower cash and cash equivalents.
DuPont's gross debt rose slightly to $9.2 billion in 2014, compared to $10.1 billion in 2010. However, the company reported a drastic reduction of $1.5 billion in its gross debt in 2014 on a year-over-year (or YoY) basis, driven by proceeds from the sale of its performance coatings business.
The company has improved its leverage despite spending a whopping $9.0 billion and $4.3 billion on capital expenditure and buyback programs, respectively, from 2010–2014.
Article continues below advertisement
Improved DE and interest coverage ratios
DuPont's debt-to-equity (or DE) ratio, another key leverage ratio, improved from 1.0 in 2010 to 0.7 in 2014, driven by an impressive rise in shareholder equity.
Despite robust buyback programs, DD's total equity rose to $13.3 billion in 2014 compared to $9.8 billion in 2010, primarily on account of higher retained earnings. The company's interest coverage ratio also improved significantly, from 5.2x in 2010 to 13.2x in 2014 due to higher operating profits and lower interest expenses.
Leverage comparison with peers
DuPont has a net debt to EBITDA ratio of 1.1x for the last 12 months. Dow Chemical Company (DOW), Eastman Chemical (EMN), and Air Products & Chemicals (APD) have higher net debt to EBITDA ratios of 1.2x, 3.3x, and 1.9x, respectively, for the last 12 months.
DuPont's interest coverage ratio of 13.0x is also healthier than DOW's 7.6x, EMN's 4.1x, and APD's 10.7x.
The iShares US Basic Materials ETF (IYM) primarily invests in North American chemical companies. DD forms 11% of IYM's total holdings.