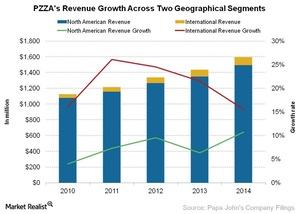 A Key Rundown of Papa John's North American Historical Revenues
By Rajiv Nanjapla

Updated
Papa John's revenue sources
Papa John's International (PZZA), which already has a very strong presence in North America, is focused on expanding its international segment. In 2014, the company hit total revenues of $1.6 billion, of which nearly 93% was generated from North American operations.
Article continues below advertisement
Revenue growth per segment
Analyzing the revenue of Papa John's by geography, we can see that the company's North American revenues have grown by 7.4%, 9.5%, 6.4%, and 10.8% in 2011, 2012, 2013, and 2014, respectively. This is compared to the 26.1%, 24.5%, 21.5%, and 15.6% it saw in international sales during the same period.
Over five years between 2010 and 2014, the company's overall revenues have increased from $1.1 billion to $1.6 billion—an increase of over 42%. The breakdown above shows that revenues from its North American operations have grown by 38%, compared to an increase of 120% from international operations.
Papa John's revenue growth versus peers
From 2010 to 2014, the revenue of YUM! Brands (YUM), which owns Pizza Hut, grew from $11.3 billion to $13.3 billion, which represents an increase of approximately 17%. During the same five years, Domino's Pizza's (DPZ) revenues increased from $1.6 billion to $2 billion, representing a growth of 27%. By comparison, McDonald's Corporation (MCD), another major quick-service restaurant, saw its revenues increase by 14% between 2010 and 2014.
This means that from 2010 to 2014, Papa John's revenue growth outperformed its competitors Pizza Hut, Domino's Pizza (DPZ), and McDonald's (MCD). Papa John's International (PZZA) makes up 2.2% of the PowerShares Dynamic Leisure and Entertainment Portfolio (PEJ) and approximately 2.3% of the PowerShares Dynamic Food & Beverage Portfolio (PBJ).
Now that we have seen the revenue growth of the company, let's talk about Papa John's quality control centers.