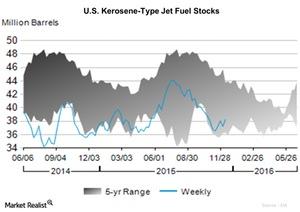 Why Are Kerosene-Type Jet Fuel Prices on a Long-Term Downtrend?
By Manu Milan

Updated
Kerosene-type jet fuel inventories
The EIA's[1. U.S. Energy Information Administration] weekly STO (Petroleum Status Report), released on December 16, 2015, stated that jet fuel inventories were 38.3 MMbbls (million barrels) for the week ended December 11, 2015. As of that week, jet fuel inventory levels were one million barrels higher than the inventories as of December 4, and two million barrels, or 5.3%, higher than the inventories in the corresponding period last year.
Article continues below advertisement
Prices, production, and imports for kerosene-type jet fuel
The spot prices of US Gulf Coast kerosene-type jet fuel were ~$1.0 per gallon as of December 14, or $0.22 per gallon lower than the prices for the week ended December 4.
The EIA's weekly petroleum status report stated that jet fuel production and imports were 1,705 thousand barrels per day and 198 thousand barrels per day for the week ended December 11, 2015. This indicates that jet fuel production slightly fell by 6,000 barrels per day. Conversely, imports rose by 91,000 barrels per day compared to the week ended December 4.
What does this mean?
The kerosene-type jet fuel inventories are just 5% more than they were in the previous year, but jet fuel prices slashed more than 40% in comparison with the corresponding period last year. This was mainly because of a fall in the crude oil prices. Crude oil prices fell more than 60% compared to last year, so, refined product prices also came down.
The other reason for the fall in jet fuel prices was increased exports from China. Because of the Chinese economy's slowdown, Chinese domestic consumption fell. This started pumping diesel and jet fuel into the rest of the global market, leading to supply glut that impacted prices.
Lower jet fuel prices lower the operational costs of aviation companies. The fall in operational cost will benefit travelers if the airfares are reduced. Also, lower operational costs would raise the revenues of refineries such as Southwest (LUV), United Continental (UAL), and JetBlue (JBLU).
In turn, the fall in jet fuel prices had an adverse impact on the revenues of refineries as it lowered the profitability of refiners like Tesoro (TSO), Phillips 66 (PSX), Valero Energy (VLO), Western Refining (WNR), Holly Frontier (HFC), and Marathon Petroleum (MPC).
Valero Energy (VLO) makes up 2.4% of the iShares US Energy ETF (IYE).