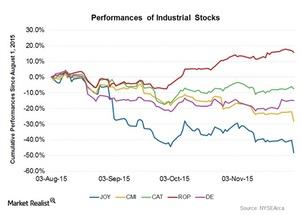 Why Have Joy Global and Cummins Sunk to the Bottom of SPY?
By Renee Blakely

Updated
Joy Global and Cummins fall
Joy Global (JOY) and Cummins (CMI) plunged -13.2% and -7.9%, respectively, on December 1, 2015. Bank of America (BAC) analysts downgraded JOY from "neutral" to "underperform." BAC analysts also downgraded CMI from a "buy" to a "sell" rating.
Let's take a look into the industrial sector to study a few industrial stocks and their downgrades.
Article continues below advertisement
Insight into the industrial sector with the help of moving averages
The above graph presents the cumulative performances of stocks that are into the manufacture of heavy construction, mining, and agriculture machinery from August 2015 onward. These include Joy Global, Cummins, Caterpillar (CAT), Roper Technologies (ROP), and Deere & Company (DE).
Returns of JOY, CMI, CAT, ROP, and DE on December 1 were -13.2%, -7.9%, -1.5%, -0.9%, and -0.1%, respectively. The beta values of the above stocks were around 1. This means that the stocks moved in tandem with the broad market movement but did not rally on December 1, as they were significantly impacted by macroeconomic events.
JOY, CMI, DE, and CAT traded at prices that were below their respective 100-day, 50-day, and 20-day moving averages. The average trading price of these stocks as of December 1 was $89.69. The average values of their 100-day, 50-day, and 20-day moving averages were $93, $89, and $91, respectively. This points toward downtrend movement in their respective prices.
After the downgrade, JOY's target stock price was lowered from $19.95 to $10 per share by analysts at Bank of America.
RSI and analysts' recommendations
The average relative strength index (or RSI) of JOY, CMI, CAT, ROP, and DE is 54. An RSI of below 30 implies that a stock is oversold or possibly undervalued. An RSI of above 70 indicates that a stock is overbought and can be pulled back. In this case, an average RSI of 54 suggests that these stocks are neither overvalued nor undervalued. They've received maximum "hold" recommendations since they've been majorly impacted due to macroeconomic events.
These stocks have received an average of seven "buy," 14 "hold," and four "sell" recommendations from analysts. The average outlook is "stable" for these stocks as per Standard & Poor's, except for Joy Global, whose outlook is "negative."
Let's also analyze the macroeconomic causes behind the downgrades while looking at the key stocks of the SPDR S&P 500 ETF (SPY) on the day.