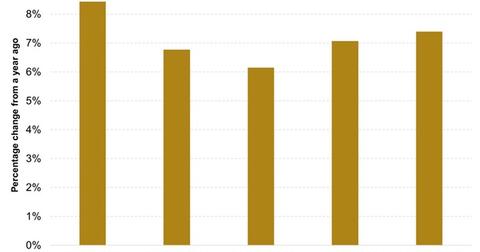 India's Economic Growth Was Strong from July to September
By David Ashworth

Updated
A brief note about GVA
GVA (gross value added) measures India's economic growth. This was one of the changes instituted by the Narendra Modi government. It still calculates the GDP (gross domestic product), but when we refer to India's economic growth, we're referring to the percentage change in the GVA. The relationship between GDP and GVA is:
GDP = GVA + taxes on products – subsidies on products
The base year for calculating India's GVA is 2011–2012. It changed from 2004–2005 used earlier. In India, a fiscal year begins in April and ends in March the following year. As a result, the second quarter in India is from July to September.
Article continues below advertisement
India's economic growth
India's economic growth, according to the GVA method, rose by 7.4% from July to September in 2015—up from the 7.1% pace seen in April through June. Although this pace was lower than 8.4% in the same period last year, it was higher than the 6.2% pace seen from January through March 2015.
Manufacturing and agriculture as well as forestry and fishing were the two sectors that powered the economic growth while construction activity slowed down from July to September.
The RBI (Reserve Bank of India) expects India's economy to grow at 7.4% for fiscal 2015–2016.
India's economic growth and monetary policy
India's economic growth experienced two successive quarters of less than 7.0% growth. This led to calls for monetary stimulus from the RBI. The central bank responded. So far in 2015, it reduced the repo rate by a total of 125 basis points. The last reduction effected was in September 2015.
As you can see in the above chart, India's GVA grew at over 7.0% for the past two quarters. As a result, the central bank wasn't required to take any rate action in its December meeting. At this point, another reduction would only fuel the inflation instead of boosting economic growth.
Growth in India's GVA is good news for India-focused funds like the Wasatch Emerging India Fund (WAINX) and the ALPS|Kotak India Growth Fund – Class A (INDAX). INDAX invests in ICICI Bank (IBN), HDFC Bank (HDB), Infosys (INFY), and Tata Motors (TTM). They form 8.0% of the fund's portfolio.
In the next part, we'll look at another reason that might have deterred the RBI from lowering the repo rate.