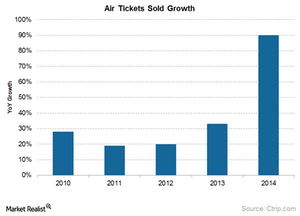 Huge Growth Marks Ctrip's Transportation Ticketing Segment
By Ally Schmidt

Updated
Growth in air travel
Airline traffic demand is measured by revenue passenger miles (or RPM) and calculated as the number of revenue passengers multiplied by the total distance traveled.
Air travel in China has seen good growth in the past five years. Demand grew 9% in 2011 and 7% in 2012. Traffic rose 15% in 2013 to 45,905 million and 14% in 2014 to 52,222 million. Up to October 2015, traffic rose by 14% to 60,942 million.
Article continues below advertisement
Air tickets sold
Huge demand has led to a tremendous increase in air tickets for Ctrip (CTRP). Air tickets volume rose by an average of 25% from 2010 to 2013. But in 2014, air tickets sold rose by a staggering 90%.
Revenue growth
The company's transportation ticketing segment's revenue grew 41% in 2010 then decreased to 25% in 2011 and 19% in 2012. Growth rates fell after the 9/11 terrorist attacks in the United States, after which the global travel and tourism industry took a hit.
In 2014, revenues grew 33% to $475.5 million. Revenue growth lagged behind volume growth since the company recently started penetrating into the bus and train ticket booking markets. Ctrip has been expanding its transportation ticketing capabilities over the last few years. The company also acquired China's second-largest rail ticket booking company, Suanya, earlier this year. We'll discuss this move in detail in a later part of this series.
Ctrip International's (CTRP) US rivals include Expedia (EXPE), TripAdvisor (TRIP), and Priceline (PCLN). Ctrip International (CTRP) is one of the top ten holdings of the CSI China Internet ETF (KWEB), accounting for 9.1% of the portfolio.