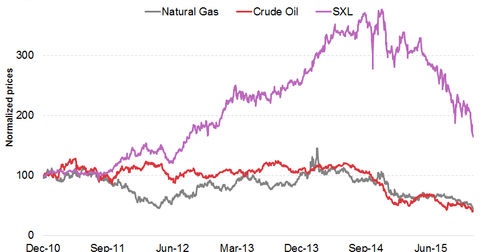 How Does Crude Oil below $35 Affect Sunoco Logistics?
By Kurt Gallon

Updated
SXL's direct commodity exposure
The earnings of midstream companies, including larger entities such as Energy Transfer Partners (ETP) and Sunoco Logistics Partners (SXL), as well as smaller ones like EQT Midstream Partners (EQM) and Antero Midstream Partners (AM), do not have much direct commodity price exposure. SXL forms ~4.8% of the Global X MLP ETF (MLPA).
The correlation between Sunoco Logistics' (SXL) stock price and crude oil (USO) resulted in a correlation coefficient of -0.27 in the last five years. Natural gas (UNG) and SXL have a correlation coefficient of 0.12 for the same period. However, the correlation between SXL and the two commodities, crude oil and natural gas, increased to 0.66x and 0.67x, respectively, during the last year—the period of the rout in energy prices.
Article continues below advertisement
A correlation coefficient close to one indicates a strong positive relationship between two variables. However, SXL should not have a strong correlation with natural gas, considering it has no exposure to natural gas. Sunoco Logistics' correlation with crude oil seems too high, considering its low crude oil and volume exposure. Next, we'll look at SXL's volume (or indirect commodity) exposure.
SXL's indirect commodity exposure
Midstream companies are indirectly exposed to commodity prices through production levels. If crude oil and natural gas prices continue to stay low, upstream producers might cut their production, which could eventually result in lower throughput volumes and lower earnings for these MLPs. Currently, WTI (West Texas Intermediate) crude oil is trading around $35, which could make it uneconomical for some areas to produce at this level.
Michael Hennigan, Sunoco Logistics' CEO, address throughput volumes in the 3Q15 earnings call, noting, "There is going to be some decline throughout the U.S. We think the areas we are in are more resilient to those. Right today, our view is that the Eagle Ford area has had the most decline."
Hennigan added, "The best area so far is the Permian area. We still think that's going to hold throughout the correction here. But we will have some areas where there's going to be some declines and we'll have to deal with that."
Crestwood Equity Partners (CEQP) has been negatively impacted by the decline at the Eagle Ford area. For more details, please refer to Is Crestwood Equity Partners a Sinking Ship?