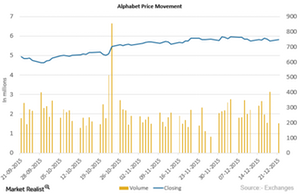 Google Enlisted Ford to Implement Self-Driving System
By Parker Thomas

Updated
Mutual benefit
Google and Ford are set to form a partnership to develop self-driving cars. They are expected to incorporate this business unit under a new company, according to Yahoo Autos. The partnership is scheduled to be announced by Ford at the "consumer electronics show" in January 2016.
By joining Ford, Google can leverage its automated self-driving system with Ford automobiles. The venture between the two firms would be separate from Ford to protect the automaker from "liability concerns" for any issues regarding self-driving cars on the road.
Article continues below advertisement
Google's expertise
The deal between the two parties seems to be "non-exclusive" as Google has approached several automakers to implement its self-driving systems. Moreover, major automakers like Nissan, Volvo, and Mercedes-Benz are developing their own self-driving systems with hopes of providing their customers with automated cars by 2020.
Google has already tested dozens of the pod-shaped self-driving cars on the road in Austin and Mountain View, California. Google started working on self-driving cars several years ago, and the company has years of experience in developing automated car systems and self-driving cars, which have logged 1 million miles on public roads.
The iShares North American Tech-Software (IGV) is a portfolio of 62 stocks, out of which the top four stocks, Microsoft (MSFT), Adobe Systems (ADBE), Salesforce.com (CRM), and Oracle (ORCL), constitute 9.6%, 9.0%, 8.8%, and 8.1%, respectively.