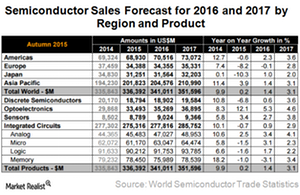 Global Semiconductor Industry to Grow at a Slower Pace
By Puja Tayal

Updated
Global semiconductor industry in 2015
The semiconductor industry witnessed slow growth in 2015 after enjoying strong growth in 2014. This was due to 3.9% YoY (year-over-year) growth in the Asia-Pacific region (EWY) that was offset by a 10.3% fall in Japan and an 8.2% fall in Europe. Moreover, the demand for semiconductors was affected by the slowdown in PC (personal computer) shipments, a strengthening US dollar, economic contraction in Japan, the European crisis, and the crash of the Chinese stock market. China accounts for more than 50% of the global semiconductor consumption.
Article continues below advertisement
Semiconductor growth forecast by geography
WSTS (World Semiconductor Trade Statistics) expects the worldwide semiconductor market to grow just 0.2% to $336 billion in 2015. However, it expects the market to pick up its pace over the coming years, with 1.4% growth in 2016 and 3.1% growth in 2017. However, the 9.9% growth witnessed in 2014, before the slowdown, is unlikely to repeat in the near term. The forecast is based on the assumption that the macro economy will revive during this period.
According to the 2016 forecast, the highest growth will come from the Americas region, followed by a revival in Japan and loss improvement in Europe, as you can see in the table above. However, the Asia-Pacific region—the key semiconductor market that has been driving growth in the industry so far—will witness a slowdown, mainly due to China's weak economy.
However, all regions are expected to post growth in 2017. We'll look at each of these regions in detail in the coming part of the series.
Article continues below advertisement
Semiconductor growth forecast by product
Looking from the product perspective, WSTS forecasts all semiconductor products to report growth, except for memory, in 2016 as the demand for PC and smartphones slows. However, growth is expected to gain momentum in 2017 over the anticipation of renewed demand for PCs.
Key players
Key players such as Intel (INTC), Micron Technology (MU), Samsung (SSNLF), and TSMC (TSM) are building or upgrading their fabrication facilities in 2016 to support future demand for advanced semiconductors. Even though the demand for new technology is increasing, it's doing so at a slower pace. This sparked consolidation within the industry, and that may continue in 2016 as companies seek ways to boost revenue and reduce cost.