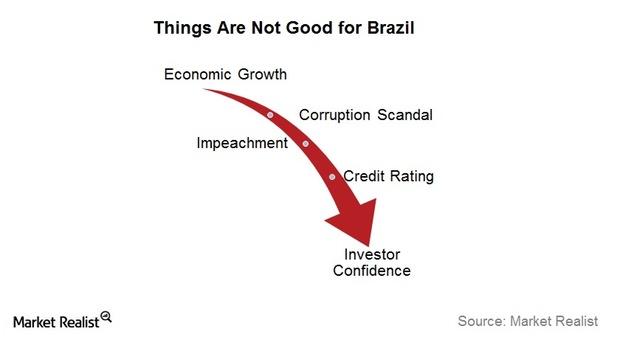 As Brazil's Situation Worsens, What about Your Mutual Fund?
By David Ashworth

Dec. 4 2020, Updated 10:53 a.m. ET
Rousseff impeachment
A commodities slump, an economic downturn, a corruption scandal. Just when you thought it couldn't get worse, it did. Impeachment proceedings will begin against Brazil's president Dilma Rousseff after the country's lower house accepted a plea for the same.
Except for the commodities slump, the factors mentioned above, along with a suspected violation of fiscal laws, are responsible for the impeachment's being initiated.
What does this mean for Brazil, and more specifically, Brazil-focused mutual funds? We'll take a look at where Brazil stands as of now economically, financially, and politically. But first, let's take a look at what this move means.
Article continues below advertisement
Not a straightforward process
Impeaching a head of government or state is not a straightforward process. Rousseff is primarily being accused of tampering with budget deficit numbers for 2014 and 2015. There are accusations that Rousseff received kickbacks from Petrobras (PBR) for her reelection campaign as well.
The plea for impeachment will be put to a special committee that will decide whether the process should go ahead. This will then be put to a vote at the lower house, and if two in three members approve of the proceedings, then a hearing will begin.
During these hearings, the vice president will head the government. If cleared, Rousseff will return. If not, the vice president will continue as the head of the government.
Reforms on the back burner
Reforms being put on the back burner is the first clear implication of impeachment proceedings. Rousseff and Brazil's finance minister Joaquim Levy had worked hard to convince members of Brazilian congress of the need for economic reforms, including the CPMF, a tax on financial transactions.
This reform and others will take a backseat, with Rousseff focusing her energies on her defense. This is not good for Brazil, which was downgraded to junk status by Standard & Poor's in September 2015.
Investors in Brazil-focused mutual funds (BDERX) and ADRs (American depositary receipts) such as Vale (VALE), BRF (BRFS) and Banco Bradesco (BBD) need to be wary of these developments. Investors may consider realigning their portfolios according to their risk appetite and the investment horizon.
We'll look at Brazil's budget balance in the next article.