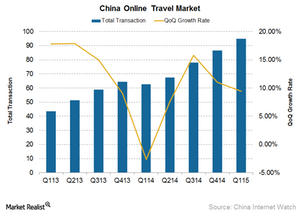 Gauging Chinese Tourism's Important Role in Ctrip's Growth
By Ally Schmidt

Updated
China faces economic challenges
The Chinese economy has been facing macroeconomic challenges. Its GDP rate has slowed and its manufacturing sector foresees weakness as the economy grows at its slowest pace in the past two decades.
Article continues below advertisement
Chinese tourism markets blooms
However, despite a slowing economy, the Chinese tourism sector seems to be blooming, recording growth in both demand and supply. If we look at the China National Tourism Administration release, we see that there's been 10% year-over-year growth in trips by locals and 15% year-over-year growth in travel-related consumption in the first half of the year. Chinese outbound tourists also increased by a strong 16% year-over-year to 62 million. This resulted from higher government spending on building tourist attractions such as campgrounds and amusement parks.
Experts also expect that for fiscal 2015, domestic travel in China will grow by 25% versus the economy's 7% growth.
Leader in Chinese OTA market
As travel has gotten a boost, the competition in the online travel segment has also risen. But Ctrip (CTRP) looks well positioned to take advantage of the tourism boom in Mainland China. The company is the online travel leader in the region, with a market share of more than 50%. It has also been aggressively working on business expansion and investments in the e-commerce segment, as we discussed in the previous part of this series.
Article continues below advertisement
Winter Olympics to provide a boost
China will be hosting the 2022 Winter Olympics, which will bring international teams and fans to watch the events and travel the country as well. This will provide a substantial boost to the travel industry. With the Chinese government emphasizing the need to develop the tourism sector, the flow of investment and support should also grow in the coming years.
Outlook
So, with all the collaborations and emerging players entering the Chinese markets, Ctrip will have to constantly look out for ways to maintain its leadership position. All this fierce competition will only benefit customers.
Ctrip International (CTRP) is one of the top ten holdings in the CSI China Internet ETF (KWEB), accounting for 9.1% of its portfolio. CTRP's rivals Qunar (QUNR),  Tuniu (TOUR), and elong (LONG) represent 1.5%, 0.4%, and 0.2% of the holdings in KWEB, respectively. Major competitors in the United States include Priceline (PCLN) and Expedia (EXPE).