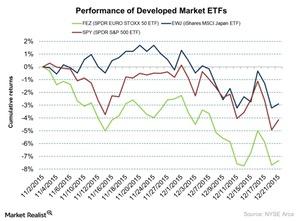 FEZ and EWJ Rebounded after 2 Days of Sell-Offs
By Sarah Sands

Updated
FEZ and EZU rose by 0.38%
The SPDR Euro STOXX 50 ETF (FEZ) and the iShares MSCI Eurozone (EZU) closed higher on Monday, December 21, 2015. Both FEZ and EZU rose by 0.38% following positive global cues. However, the Wisdom Tree Europe Hedged Equity ETF (HEDJ) fell by 0.5% on that day. After the announcement of the Fed's decision on the federal fund's rate on December 16, market participants became very cautious about initiating new positions in the market. The continuous fall in crude oil prices is causing more jitters in the market.
Article continues below advertisement
Market snapshot
On December 21, 2015, the market recovered its initial loss and closed on a positive note. SPY closed higher by 0.82% due to the recovery in technology stocks like Apple (AAPL), Facebook (FB), and Microsoft (MSFT). The rally sustained due to support from healthcare stocks after 6 million Americans signed up for subsidized health insurance. The iShares MSCI Japan ETF (EWJ) rose by 0.37% following the positive global cues.
Oil is represented by the United States Oil Fund (USO). It didn't change. USO closed at $10.66. When the market opened on December 21, it fell by 1.2%. When the market closed, it recovered its initial loss. It closed at $10.66. The iShares 20+ Year Treasury Bond (TLT) closed marginally lower at $123.20. It fell by 0.02% on that day. Gold is represented by the SPDR GLD Shares (GLD). It rose by 1.1% on the same day due to a weaker dollar.
The iShares MSCI Emerging Markets (EEM) rose by 0.81% and closed at $32.40. However, the iShares MSCI ACWI (ACWI) fell by 0.45% and closed at $55.31.
Next, we'll discuss how FEZ's various industries performed as of December 21, 2015.