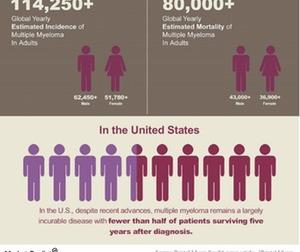 FDA Approves Empliciti for Multiple Myeloma
By Mike Benson

Updated
Empliciti approved for treatment of patients with multiple myeloma
On November 30, 2015, Bristol-Myers Squibb (BMY) and AbbVie (ABBV) announced that the FDA has approved Empliciti. Empliciti, an immunostimulatory antibody codeveloped by Bristol-Myers Squibb and AbbVie, targets signaling lymphocyte activation molecule family member 7, or SLAMF7. SLAMF7 is a cell-surface glycoprotein.
Empliciti is under the review process by the European Medicines Agency, which has granted Empliciti an accelerated assessment. It is the first and only immunostimulatory antibody that has been approved by the FDA for multiple myeloma.
Article continues below advertisement
What is multiple myeloma?
The FDA defines multiple myeloma in the following way: "Multiple myeloma is a form of blood cancer that occurs in infection-fighting plasma cells (a type of white blood cell) found in the bone marrow. These cancerous cells multiply, produce an abnormal protein and push out other healthy blood cells from the bone marrow. The disease may result in a weakened immune system and cause other bone or kidney problems." Multiple myeloma causes symptoms like bone pain, fatigue, kidney impairment, and infections.
According to the press release announcing Empliciti's approval, multiple myeloma is the second most common type of blood cancer. Although there are new treatments available for multiple myeloma, it remains incurable and has a five-year survival rate of 44.9%. Per the press release, global estimates indicate there are 114,200 new cases of multiple myeloma each year, with over 80,000 deaths annually from the disease.
What is Empliciti?
Empliciti is the trade name of elotuzumab, which was codeveloped by Bristol-Myers Squibb and Abbvie. According to the press release, "Elotuzumab is a humanized IgG1 monoclonal antibody targeted against Signaling Lymphocyte Activation Molecule (SLAMF7, also called CS1), a glycoprotein expressed on myeloma and Natural Killer cells but not detectable in normal tissue."
The FDA granted a Breakthrough Therapy designation to Empliciti in 2014 for the treatment of patients who had received one to three prior treatments for multiple myeloma. It is a combination drug to be used with lenalidomide and dexamethasone. Bristol-Myers Squibb is taking on the responsibility for commercial activities of Empliciti.
Existing treatments for myeloma include Celgene's (CELG) Revlimid and Pomalyst, Takeda's (TKPYY) Velcade, Johnson & Johnson's (JNJ) Darzalex, Novartis's (NVS) Farydak, and Onyx Pharmaceuticals' Kyprolis.
To diversify their risk, investors can consider ETFs like the iShares US Pharmaceuticals ETF (IHE), which holds ~7.6% of its total investments in Bristol-Myers Squibb.