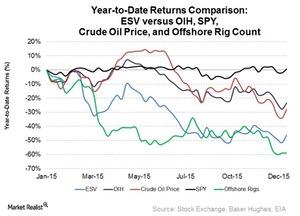 Explaining Ensco's Returns Relative to Its Value Drivers
By Alex Chamberlin

Jan. 6 2016, Updated 5:05 p.m. ET
ESV's returns and key drivers
Oilfield equipment and services companies like Ensco (ESV) are affected by crude oil and natural gas rig counts and energy prices. Crude oil's price started to slump in June 2014 when it reached a multiyear high of ~$110 per barrel. Since the beginning of 2015, West Texas Intermediate (or WTI) crude oil price has dropped ~27%.
As crude oil prices fell, the number of active rigs also started to fall. The sharp fall in rigs in 1H15 prompted the market to believe that production would fall soon, bringing about some support for crude oil prices, and rig counts shortly after that. However, prices started falling again in July and continued to stay weak until the third week of December.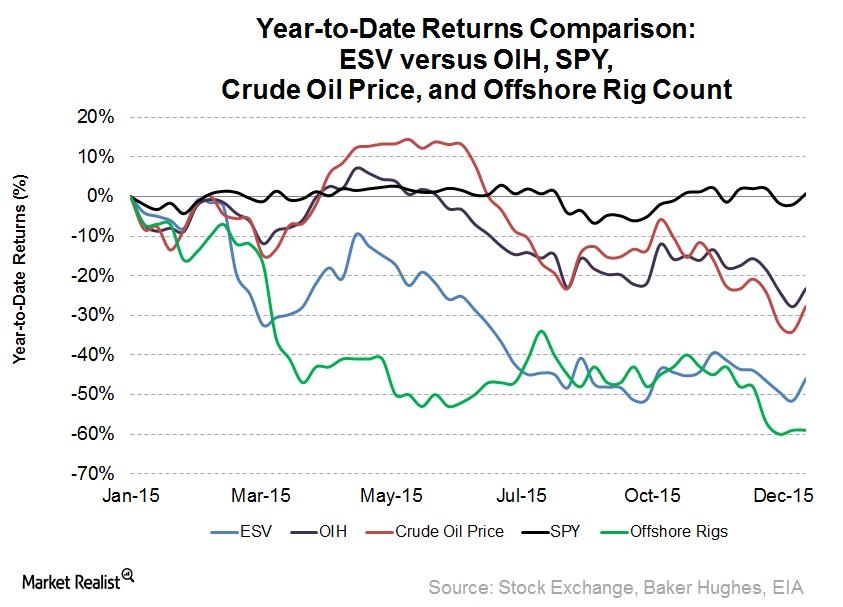 Article continues below advertisement
How correlated are ESV and crude oil prices?
The correlation coefficient between ESV's stock price and crude oil prices from December 2014 to December 29, 2015, is 0.53. This indicates a degree of correlation between crude oil prices and ESV's stock prices.
Analyzing ESV's underperformance and its strategies
Upstream companies have been aggressively cutting exploration and production budgets, as well as renegotiating contracts with the oilfield equipment service and equipment (or OFS) providers. The North American onshore drilling activity decline has led to rig stacking. ESV's Ensco DS-10 has been delayed and is now scheduled for an early 2017 delivery.
The company expects excess rig capacity in the rig market, leading to lower utilization and day rates, causing ESV's revenue and income to fall. Its management estimates that its capex will fall 62% to $625 million in fiscal 2016 to realign costs to lower revenues. Also, ESV recently finalized several contracts, including Ensco 71 at Ensco 72. In total, these contracts represent $400 million of additional revenue backlog. These can provide some tailwind to ESV's growth.
ESV's year-to-date returns, with -45% returns, have been worse than the industry ETF OIH (negative 23%). Its stock has underperformed the crude oil price, which fell 27% year-to-date. However, ESV did manage to outperform the US offshore rig count, with a 59% YTD fall.
The SPDR S&P 500 ETF (SPY) has returned a positive 1% during the same period. SPY provides investors exposure to the broader market through investing in the S&P 500 Index. ESV's peer RPC Inc. (RES) has outperformed ESV, producing a -3% YTD return.