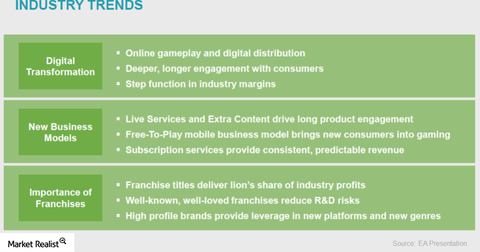 EA's Sports Franchises Important for Its Long-Term Growth
By Adam Rogers

Updated
Franchises leverage new platforms and genres
Electronic Arts (EA) has stated that large sports franchises are very important for sustainable growth in the gaming industry. A strong and popular sports franchise ensures a constant and stable stream of revenues.
In the below table, we can see that successful franchises generate a major portion of the profits. They further reduce research and development (or R&D) risks as firms have a fair idea of user preferences.
Article continues below advertisement
Users can download games to consoles
As noted in Part 3, Electronic Arts (EA) is trying to expand its market share in the digital gaming space, thereby generating revenues from micro-transactions as well as subscriptions. While previously, players had to personally visit stores to purchase games, they can now go to Sony's (SNE) Xbox Live or Microsoft's (MSFT) PlayStation Now and download games onto their consoles. This has been a major driver of profitability for EA. Full game downloads contributed $420 million to the company in fiscal 2015.
Blake Jorgensen, CFO of EA, stated, "Only about 20% of the products today are downloaded full game. And we believe that will continue to grow as consumers default towards much more simplicity and ease of use. Extra content, that's where the Ultimate Team revenue is I spoke of, is roughly $1 billion which is growing rapidly 20%-plus over the last few years and a huge driver for us.
"Essentially it's incremental profitability on the core products. Subscription businesses like our EA Access business with Microsoft where you can subscribe to a vault of games or a subscription business, we have a subscription Star Wars product where you can subscribe to play are still a small business but we believe there's overall growth in that subscription consumption model over time. And last but not least our mobile business is about $500 million but continuing to grow rapidly and we think there's a huge opportunity in the future there."
Microsoft comprises 12.3% of the iShares US Tech ETF (IYW) and 8.4% of the Power Shares QQQ Trust ETF (QQQ).