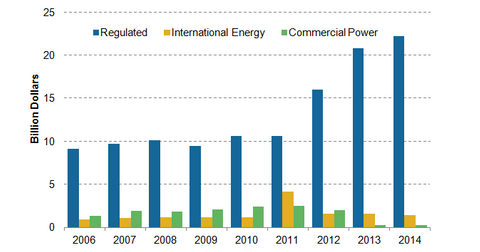 Why Does Duke Energy Concentrate on Regulated Operations?
By Vineet Kulkarni

Updated
Revenue trends
Duke Energy carries out its operations in three business segments, namely regulated utilities, international energy, and commercial power. The high reliance on regulated operations offers stability and smooth growth prospects in the longer term. Nearly 93% of Duke's total revenues come from regulated operations while the international energy segment contributes a mere 6%.
Article continues below advertisement
Regulated utilities
Duke's focus on expanding its regulated operations can be seen in the chart above. Revenues from regulated business surged after 2012 when Duke Energy (DUK) acquired Progress Energy. Duke Energy Progress is Duke energy's regulated public utility. It operates at each stage of the energy value chain, from generating power to transmitting and distributing it, and serves 1.5 million customers in the Carolinas region. This is the highest revenue-grossing area for Duke.
International energy
The segment primarily operates and manages power generation fleets and looks after sales and marketing of electric power and natural gas abroad, particularly in Latin America (ILF). International Energy's customers include retail distributors, electric utilities, independent power producers, as well as commercial and industrial companies. It also owns 25% interest in National Methanol Company, a large regional producer of methanol in Saudi Arabia.
Article continues below advertisement
Commercial power
The segment builds, develops, and operates renewable energy generation facilities as well as transmission projects aimed at enhancing geographical reach, reliability, and efficiency.
Mergers and acquisitions in the sector
In October 2015, Duke Energy announced that it will buy the natural gas utility Piedmont (PNY) for $4.5 billion. This would add one million customers to Duke's portfolio, and PNY rose sharply when the news broke.
So far this year, shares of PNY have gained more than 50%. Southern Company (SO) agreed to buy natural gas utility AGL Resources to expand its operations in New Jersey and Florida. Shares of AGL Resources (GAS) gained 18% so far this year. A popular move in the utilities (XLU) sector is to achieve cost competitiveness by mergers and acquisitions that aim to strengthen the generation and transmission business.