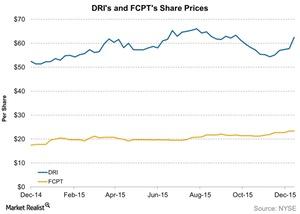 How Darden's Four Corners Property Trust Spin-Off Creates Value
The spin-off
On November 9, 2015, Darden Restaurants (DRI) completed the spin-off of its select real estate properties to its Four Corners Property Trust. This would make the Four Corners Property Trust an independent entity to be traded at the NYSE (New York Stock Exchange) under the ticker (FCPT), which is currently trading at ~$23. Four Corners Property Trust is set up as a REIT (real estate investment trust).
Following the spin-off, Darden Restaurants received $315 million in cash proceeds, which will be used to retire a portion of its $1 billion debt. We'll look at the company's debt position later in this series.
Article continues below advertisement
One for three
Darden Restaurants' (DRI) shareholders received one share of FCPT for every three shares of DRI as of the record date of November 2, 2015, and the spin-off is tax-free to DRI's shareholders. FCPT shares started trading on the NYSE on November 10, 2015.
Real estate properties earn rent for a company. Cash flows under a non-REIT structure are taxed at the business level. However, under a REIT structure, a company must earn 75% of its revenue from real estate (such as rents) and distribute 90% of its taxable income to shareholders in the form of dividends.
How does this create value for investors?
Without the spin-off, Darden was free to retain income received from real estate. However, because of the 90% distribution required by law, investors benefit immediately. This is why activist investors have pursued McDonald's (MCD) to spin off its real estate.
You may access Darden through the Consumer Discretionary Select Sector SPDR ETF (XLY). XLY's portfolio invests 0.3% in Darden (DRI), 4% in McDonald's (MCD), 3% in Starbucks (SBUX), and 1.5% in Yum! Brands (YUM).