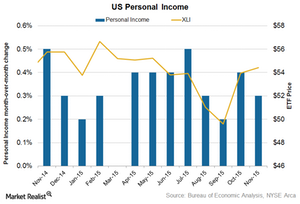 Consumer Spending Increases with Rising Incomes in November
By Lara Sheldon

Updated
Personal income rose 0.3% in November
With the lower increase in wages and salaries, personal income has increased by 0.3%, or $44.4 billion, in November, compared to the increase of 0.4%, or $66.9 billion, in October.
Meantime, while a decline in new orders and production levels have kept employment lower in November, manufacturers are also finding difficulty in employing skilled manpower. To retain skilled labor, manufacturers need to pay higher wages and salaries.
With smaller increases in personal income, the SPDR Dow Jones Industrial Average ETF Trust (DIA)  and the Industrial Select Sector SPDR Fund (XLI) have fallen by 1.2% and 2.9%, respectively, over the past month as of December 23.
Article continues below advertisement
Private sector wages and salaries rose in November
In November, wages and salaries rose by $37.1 billion, with the private sector contributing $34.4 billion, while the government continued to increase moderately at $2.8 billion during the same month.
Proprietors' income increased by $1.6 billion in November, with a decrease of $0.9 billion in farm proprietors' income and increase of $2.5 billion in non-farm proprietors' income. Rental income of persons also rose $5.7 billion in November.
Personal outlays rose 0.3% in November
Consumer spending accounts for about 70% of the US GDP (gross domestic product). Personal spending rose 0.3%, or $44.0 billion, in November, compared to the downwardly revised $7.5 billion in October 2015.
In November, broad-based upturn was seen in all components of personal outlay. The increase in November was mainly led by an increase in the purchase of durable and non-durable goods by 0.7% and 0.5%, respectively. Also, services saw an increase of 0.2% in November.
Consumer staples and stocks
With the rise in consumer spending, the Consumer Staples Select Sector SPDR ETF (XLP) increased 0.45% as of December 23. Consumer stocks such as Kellogg (K), Colgate-Palmolive (CL), Estée Lauder (EL), and Clorox (CLX) increased by 0.86%, 0.98%, 0.68%, and 0.49% respectively, as of December 23.
The personal saving rate as a percentage of disposable personal income was seen marginally at 5.5% in November, compared to 5.5% in October. An increase in personal income in November was also accompanied by a rise in consumer spending—all of which points to an increase in consumer confidence in the economy.
While consumer spending is growing, let's see how it reflects in consumer sentiment in the next part of this series.