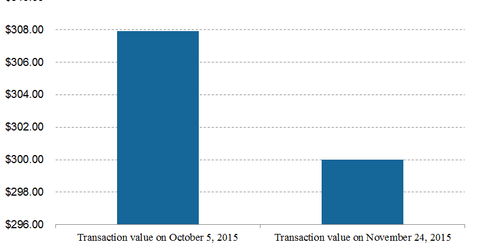 Computer Sciences to Acquire Australian Tech Company UXC
By Adam Rogers

Updated
Transaction valued at $307.9 million
On November 24, 2015, Computer Sciences (CSC) confirmed that it had entered into a binding "scheme of implementation" agreement to acquire the shares of UXC, a leading Australian technology company. Computer Sciences is set to acquire 100% of UXC's issued capital for a cash consideration of $1.22 Australian dollars per share.
UXC will pay a franked dividend of $0.02 cash per share. The total transaction was valued at $307.9 million, or $427.6 million in Australian dollars, based on 345 million outstanding shares of UXC. This is subject to the approval of UXC shareholders and the customary regulatory and court approvals. The transaction is expected to conclude by February 2016.
Earlier, on October 5, 2015, Computer Sciences announced that it had entered into exclusive negotiations to acquire UXC shares at an agreed price of $1.26 Australian dollars per share. Based on 340 million shares outstanding, the transaction was valued at $428 million Australian dollars, or $300 million on completion.
About UXC
UXC is Australia's largest independent and publicly owned information technology company. It had revenues of $493.9 million in its latest reported fiscal period and a workforce in excess of 3,000. Mike Lawrie, CSC's president and CEO, said, "We look forward to the prospect of the UXC team joining CSC. The addition of UXC would continue the process of rebalancing our offering portfolio and strengthening our global commercial business. UXC's application platform capabilities – combined with CSC's existing strengths in cloud, cyber, and big data – would enhance what the two companies already deliver to clients in the region."
IBM (IBM) and FireEye (FEYE) are looking to acquire cybersecurity firm CyberArk Software (CYBR). CSC comprises 0.05% of the iShares Core S&P 500 ETX (IVV) and accounts for 0.20% of the iShares Global Tech ETF (IXN).