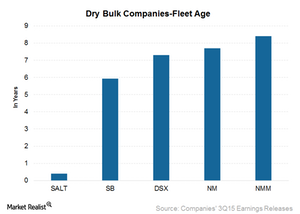 Scorpio, Safe Bulkers Have Young Dry Bulk Fleet: Does It Matter?
By Anuradha Garg

Jan. 15 2016, Updated 4:04 a.m. ET
Fleet age
Average fleet age is an important indicator for a company's performance. The old vessels cost more to operate because they tend to have higher maintenance expenses to keep up their performance. A high number of older vessels in the mix also increases future capital expenditure spend. Older vessels are also more likely to get scrapped. During an industry downturn, the market usually focuses on NAV (net asset values) of vessels. The values of older vessels are more volatile and prone to declines. The reverse is true when rates are increasing. It is during these times, that companies can take delivery of secondhand vessels almost immediately against waiting for two to three years for newbuilds and take advantage of the increasing rate environment.
Article continues below advertisement
The average fleet age
The above chart shows the average age of vessels for major dry bulk shipping companies. At the end of 3Q15, Navios Maritime Partners (NMM), Navios Maritime Holdings (NM), Diana Shipping (DSX), Safe Bulkers (SB), and Scorpio Bulkers (SALT) had fleets with average ages of 8.4, 7.7, 7.3, 5.9, 0.4 years, respectively.
NM and NMM collectively form 4.7% of the Guggenheim Shipping ETF (SEA). It's important to note that investors can gain exposure to commodities through the SPDR S&P Metals and Mining ETF (XME).
Scorpio Bulkers held an IPO in December 2013 and started to focus on only newbuild fleet. That's the reason it has the youngest dry bulk vessel fleet with an average age of just 0.4 years. Safe Bulkers also has a younger fleet compared to its peers. As we saw earlier, because newer vessels tend to be more economical, SB's younger vessels are a reason the company enjoys higher asset value than many of its peers.
Age structure
At the end of 3Q15, four of NMM's dry bulk vessels were more than 15 years old. In comparison, Diana and Safe Bulkers don't have any vessels more than 15 years old. Although NMM has older vessels, it doesn't have an immediate risk of scrapping vessels.
If freight rates are falling, then companies with younger ships usually outperform, if everything else is the same and the companies are valued on an asset value basis.