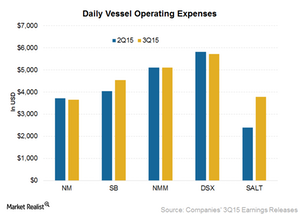 Low Vessel Operating Expenses Help the Downturn in Dry Bulk Rates
By Anuradha Garg

Jan. 1 2016, Updated 11:06 a.m. ET
Daily vessel operating expense
Daily vessel operating expense is an important metric to gauge the operational efficiency of marine shipping companies. It affects companies' costs and earnings. When operating efficiency is high, companies will generally have higher margins and returns on investments, and vice versa. While efficiency is one part of it, investors also need to note that the vessel operating expenses also differ depending on the types of vessels operated by companies and the age of the vessels.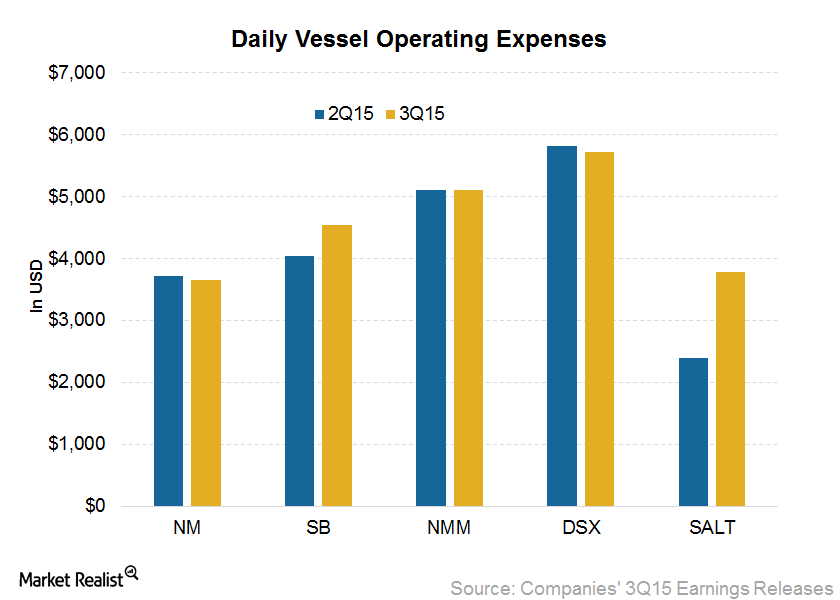 Article continues below advertisement
Operating expenses for dry bulkers
For 3Q15, Navios Maritime Partners (NMM) reported daily vessel operating expenses of $5,107. This is lower compared to 3Q15 expenses per day of $5,719 for Diana Shipping (DSX).
Expenses for Safe Bulkers (SB) are lower at $4,550 per day for the same quarter. Safe Bulkers' low vessel operating expenses match up well with its young fleet, as we've already seen.
Navios Holdings (NM) boasts of operating expenses that are 35% below the industry average at $3,654 per day. Part of the expenses is fixed in crew and salaries, lubricants, oil, and insurance. Its management mentioned that the discretionary declines for NM mainly come from savings due to scale such as spare parts, paint, lubricant, and discounts on insurance.
The daily vessel operating expenses for Scorpio Bulkers (SALT) works out to be $3,789 for 3Q15. The lower costs are due to a very young fleet compared to its peers. During the earnings call, management commented that there are other vessels that will be delivered over the next few quarters, and the accurate number for operating expenses will only be visible at the end of 4Q15.
The above graph shows dry bulk shippers' daily operating expenses for 2Q15 and 3Q15. An important thing to note is that while the expenses for NMM, NM, and SB include dry docking expenses, those for DSX do not.
Navios Partners forms 2.7% of the Guggenheim Shipping ETF (SEA). The SPDR S&P 500 Trust ETF (SPY) represents the broader transportation industry.
In the current scenario of a weak dry bulk market, companies with lower operating expenses are preferred, since pressure on revenues makes operating leverages work negatively.