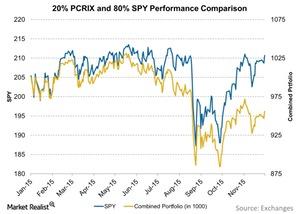 Some Commodity Hedge Funds Closed due to the Market Slump
By Ivan Kading

Nov. 20 2020, Updated 12:16 p.m. ET
Falling commodity market
Falling crude prices, slowness in China's growth, and high supply and low demand for commodities in Asia are some of the primary reasons for the commodity market's slump this year.
The Bloomberg Commodity Index has fallen by more than 25% since January 2015, and it's still on a downward trend. Recently, a number of commodity hedge funds such as the Galena Metals Fund and the Armajaro Commodities Fund have closed their doors due to this market downfall.
The PIMCO Commodity Real Return Strategy Fund (PCRIX) is an alternative mutual fund that has suffered because of its commodity real return strategy, which exposes it to the ongoing commodity slump.
Article continues below advertisement
Historical performance of PCRIX
PCRIX's portfolio is divided into two main parts. The first part consists of various fixed income instruments, including corporate bonds and mortgages from different companies such as Hewlett-Packard (HPQ), AT&T (T), RBS Securities (RBS), Merrill Lynch (IPB), and Wells Fargo (WFC).
The second part consists of future and forward contracts of different commodity-linked investments. The above graph compares the market performance of a mixed portfolio of PCRIX and the S&P 500 (SPY) with that of the performance of the market alone.
The adverse commodity effect has reduced SPY's year-to-date (or YTD) return to -1.3% from its actual YTD return of 4%.
Conclusion
Alternative funds are risky options. The commodity market and the fixed income market are facing the heat of a global economic slowdown. This has already resulted in the closure of some general hedge funds. An investor should properly understand the nature and workings of a fund before deciding to invest in it.