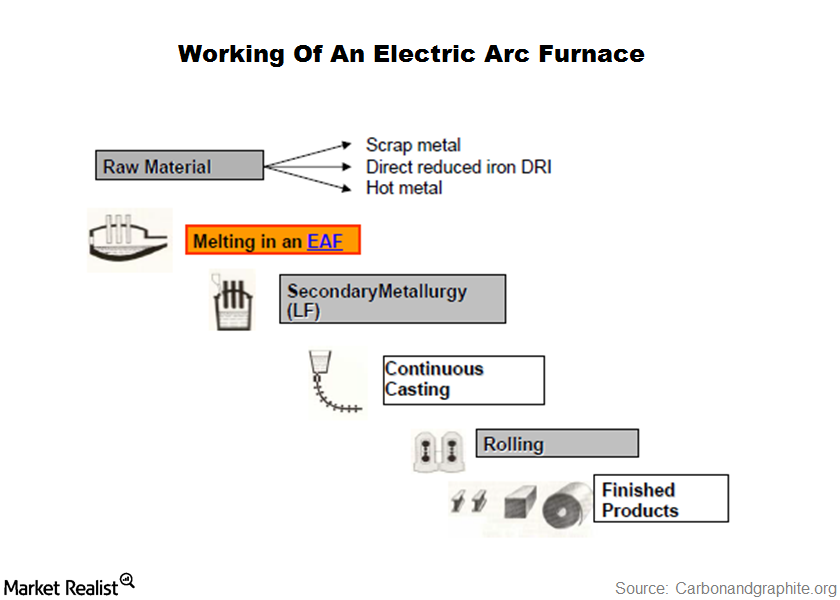 Should Cliffs Be Concerned about US Steel Industry's Shift to EAFs?
By Anuradha Garg

Dec. 24 2015, Updated 4:05 p.m. ET
Electric arc furnace versus blast furnace
Currently, mini-mills, which use electric arc furnace (or EAF) technology, produce ~60% of US's steel volumes. Mini-mills, which use scrap metal to make steel, have performed better than blast furnace operators on average. Blast furnaces (or BF) have higher fixed costs and less flexibility to respond to market changes in the short- to medium-term.
When capacity utilization rates are low, as they are currently, the profitability of steelmakers using blast furnaces comes down. According to a January 2014 article in the Wall Street Journal, "With the U.S. generating more scrap and requiring less steel, EAFs have been in fashion. No new blast furnace has been built in this country since the 1960s."
Article continues below advertisement
Nucor Corporation (NUE) and Steel Dynamics (STLD) produce steel through EAFs. These companies also primarily use steel scrap to produce steel. Conversely, the United States Steel Corporation (X) and ArcelorMittal SA (MT) use mainly iron ore for steel production. Currently, Nucor makes up 2.6% of the Materials Select Sector SPDR ETF (XLB).
Shift from BF to EAF
In the declining steel prices market scenario, EAFs do better than their BF peers. US Steel is shifting to EAF at its Fairfield Works to replace BF, which will be taken offline when the EAF is complete. According to Sarah Cassella, a spokesperson for U.S. Steel, "Through careful assessment of our operational footprint, the blast furnace at Fairfield would require significant maintenance and had reached the end of its useful life, which allows for the construction of the EAF."
As other steel producers' blast furnaces reach the end of their useful lives, they also might be inclined to shift to EAF. This might mean the decreased use of iron ore pellets, which are used in blast furnaces.
Article continues below advertisement
Implication for Cliffs
This might mean pressure on Cliffs Natural Resources (CLF) in the form of lower volumes in addition to lower prices. Cliffs communicated its intention to venture into direct reduced iron (or DRI). The company has already completed production of the first industrial-sized trial round of 60,000 tons of direct reduced grade pellets on Minnesota's North Shore.
However, in its 3Q15 earnings call, Cliffs Natural Resources maintained that with iron ore and scrap prices at current low levels, "it's very difficult to justify investments that would put more capacity to produce DRI in the Great Lakes."
Cliffs does not have any capital to develop a new DRI facility, as Lourenco Goncalves, Cliffs' CEO and president, noted during its 3Q15 earnings call: "I would be happy to invest capital if I had it. And let's face it, I don't have it. So in order to develop a new DRI facility, in the Great Lakes, we're going to need capital for someone else."
Both statements imply a limited likelihood of any capital going into DRI at this stage. This means volume pressure for Cliffs going forward from the BF to EAF shift.