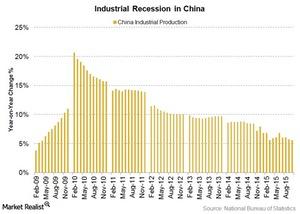 China's Position as a Global Economic Power Is Weakening
By Surbhi Jain

Nov. 20 2020, Updated 11:51 a.m. ET
China's position is weakening
China (ASHR) (FXI) is the world's largest exporter and second-largest importer of goods. It's an important and influential economic superpower. Strong exports, foreign investments, and trade surplus have been boosting China's foreign reserves for quite some time.
Article continues below advertisement
Why has China's position been weakening?
China saw its double-digit growth rates, recorded after the 2009 economic recession, fall to less than 7% as of fiscal 3Q15. China's position in the global arena has been weakening due to:
The lack of demand resulted in a slowdown in the economic activity.
The economy is experiencing an industrial recession. The Caixin Manufacturing PMI is published monthly by Markit. It shows that industrial growth in China has been falling for nine consecutive months.
China's demographics—one of the key reasons behind its growth, power, and success over the last few decades—are proving to be counterproductive. China has one of the oldest populations with a median age of about 36 years. The changing demographics imply a fall in the working age population combined with a rise in the number of retirees looking for social support.
China's stock market rollercoaster reflects the inefficiencies that have crept into the financial system.
Billionaire hedge fund manager, David Tepper, thinks that China is on a "learning curve." This implies that the Chinese government has been making one policy mistake after another.
All of the factors mentioned above weakened China's position as a global superpower in the world economy (ACWI) (VEU).
Stronger footing on the global stage
The yuan's recognition in the SDR basket could pave the way for the currency being used more in trade and commerce. We could see more foreign trade taking place in the Chinese yuan. This would help the Chinese economy recover over a longer term. Increased trade should benefit Chinese firms like Alibaba (BABA), Ctrip.com (CTRP), and Jumei International (JMEI).
Over the past five years, China has been implementing certain reforms aimed towards achieving this recognition.