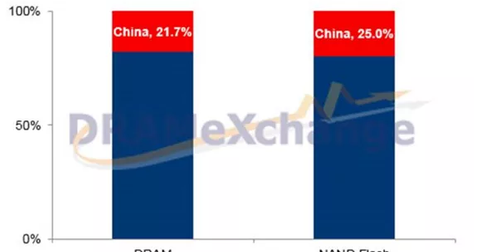 China to Manufacture 8% of Total NAND Flash Wafers in 2016
By Adam Rogers

Updated
Chinese companies becoming vertically integrated
As discussed in the third part of this series, China is looking to set up a semiconductor industry domestically. Chinese companies in the memory space are integrating vertically quickly, which has led to an increase in their market share in the NAND flash supply chain. China's huge potential in the semiconductor market has also led global giants such as Samsung (SSNLF) and Intel (INTC) to invest heavily in the country.
Article continues below advertisement
While Samsung is expanding its fab, or manufacturing plant, in Xi'an, Intel is looking to convert its fab in Dalian from making logic ICs (integrated circuits) to manufacturing NAND flash memory. In September 2015, it was speculated that Chinese company Tsinghua Unigroup is looking to acquire Micron Technology (MU) for $23 billion or form a joint venture to build a new fab.
Solid-state drives expected to lead demand
Sean Yang, research director of DRAMeXchange, stated that with the growth of consumer electronics remaining flat YoY (year-over-year), demand for NAND (negative-AND) flash products will be driven by an increase in content per box. According to DRAMeXchange, the average density of client-SSD (solid-state drive) and smartphone eMMC (embedded multimedia card) products will increase 30% YoY in 2016. The increasing adaptation of 3D-NAND flash development and a rising penetration of TLC (triple level cell) technology has led to a rapid decline in SSD prices. It is estimated that by the end of 2016, 128GB (gigabyte) SSDs will cost less than 500GB HDDs (hard disk drive), whereas prices of 256GB SSDs will be close to those of 1TB (terabyte) HDDs.
Intel comprises 3.7% of the iShares North American Technology ETF (IGM) and 4% of the iShares S&P Global Technology Sector ETF (IXN).