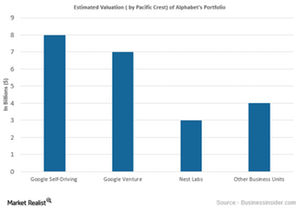 Analyzing Alphabet's Earnings from non-Google Business Units
By Parker Thomas

Updated
Losing around $1.5 billion
Alphabet (GOOG) consists of a portfolio of companies from various sectors including Google, Calico, GV, Google Capital, Google X, Google Fiber, and Nest Labs. Out of these companies, Google earns the highest profits.
However, Alphabet bears the cost of encompassing other business units under its portfolio. According to Pacific Crest, Alphabet is losing around $1.5 billion on its other business units apart from Google. Alphabet's three business units, Nest Labs (home automation hardware), Google Fiber (access and energy), and Replicant (robotic business) lead all of the other non-Google businesses that generate revenue but are unable to make a profit.
Article continues below advertisement
Non-Google business units are worth $22 billion
During 2015, Google X has lost around $282 million. Google X's objective is to build Google Glass and Project Loon to bring Wi-Fi to remote areas. Moreover, Google Fiber lost $304 million in 2015. However, Alphabet reported revenues of $18 billion and a profit of $4 billion in 3Q15 compared to $2.7 billion in the same quarter the previous year.
According to Pacific Crest, valuation of non-Google business units constitutes approximately $22 billion. Alphabet's most valuable non-Google business unit is its "self-driving car," which has an estimated value of $8 billion, followed by Google Venture, an investment firm with a valuation of $7 billion.
Google Venture holds a 10% stake in Uber that is worth around $68 billion and another investment includes the publishing platform Nextdoor. Nest Labs, another investment, was acquired by Google for a purchase price of $3.2 billion in January 2014.
The SPDR S&P 500 ETF (SPY) is a portfolio of 507 stocks, out of which the top four stocks Apple (AAPL), Microsoft (MSFT), Exxon Mobile (XOM), and General Electric (GE) constitute 3.6%, 2.3%, 1.9%, and 1.7%, respectively.