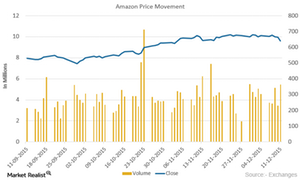 Amazon Logistics: Amazon to Reach Customers' Doorsteps
By Parker Thomas

Updated
Amazon making its own deliveries
Amazon's Logistics department is driven by the technology for organized and hassle-free delivery to consumers. Amazon has built this service around 120 warehouses worldwide to be competitive with its rivals, which include Walmart and Target.
Until now, Amazon has highly depended on a logistics partner for delivery, but it has come up with its own delivery process to bypass the intermediary. The company is providing different delivery options such as same-day and one-hour delivery to suit its consumers' preferences.
Amazon has continued investing in logistics all across its supply chain. It's buying its own vehicles and supplying on-demand delivery workers to integrate the procurement and delivery processes in major cities from Seattle to New York.
Article continues below advertisement
Elimination of extra costs
Over the past few quarters, Amazon's shipping costs have been on the rise reaching 12% of net sales in 3Q15. Shipping losses have reached more than $1.2 billion in 3Q15. Per analysts, Amazon is experimenting with new delivery options, rather than depending on logistics networks such as FedEx and UPS, to eliminate extra costs over time.
Amazon migrated to its own delivery process in 2013, when UPS and FedEx were delayed due to a severe winter storm as the demand for products remained high from consumers during Christmas. In response, Amazon relied on a US postal system that took care of urgent delivery for Amazon packages.
The PowerShares NASDAQ Internet ETF (PNQI) is a portfolio of 94 stocks, out of which the top four stocks Amazon (AMZN), Alphabet (GOOG), Facebook (FB), and Netflix (NFLX) constitute 9.1%, 8.7%, 8.3%, and 7.5%, respectively.